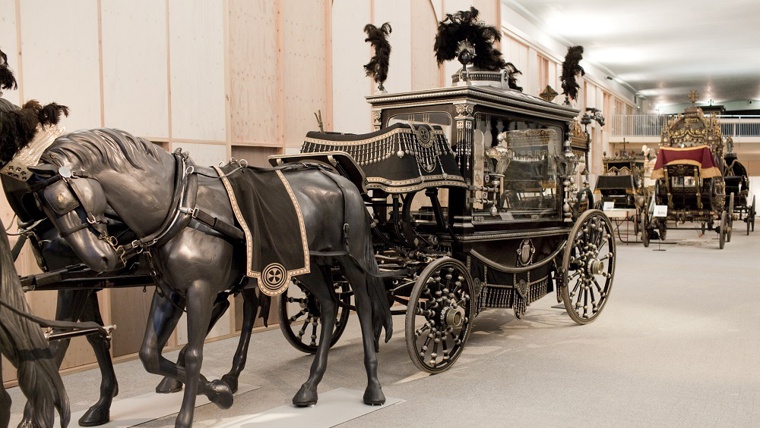 Guided tour. A heritage collection featuring horse-drawn carriages through to motor vehicles.
Cementiris de Barcelona are offering a guided tour of their Collection of Funeral Carriages, every Saturday until 24 September.
Notable exhibits in the heritage collection include: thirteen horse-drawn carriages for transporting coffins, six carriages for taking families to the church and later to the cemetery, and three motor vehicles (a Hispano-Suiza, a Studebaker and a Buick Riviera).
The itinerary shows each of the exhibits and helps visitors understand their link with Barcelona's social evolution from the middle of the 18th century through to the 20th century.
Free admission. Capacity is limited and places should be booked in advance.
More details on the tour can be found here.
Traductor de

:
Schedule
| | Days | Hours | Preus | |
| --- | --- | --- | --- | --- |
| | dissabtes | a les 12:00 h | Entrada Gratuïta | |
Others
Occur on:

Organised by:
L'itinerari mostra cadascuna de les peces i fa entendre la seva vinculació amb l'evolució social barcelonina. Hi descobrireu les històries que tenen darrere i els significats de les diferents simbologies. Una extensa documentació gràfica us permetrà endinsar-vos en la Barcelona de mitjan segle XVIII fins a mitjan segle XX.
Address:

Carrer de la Mare de Déu de Port, 56*58

District:

Sants-Montjuïc

Neighborhood:

el Poble-sec

City:

Barcelona
When

From 25/06/2022 to 24/09/2022
You may also be interested in...
If you would like to make a correction related to this activity...let us know