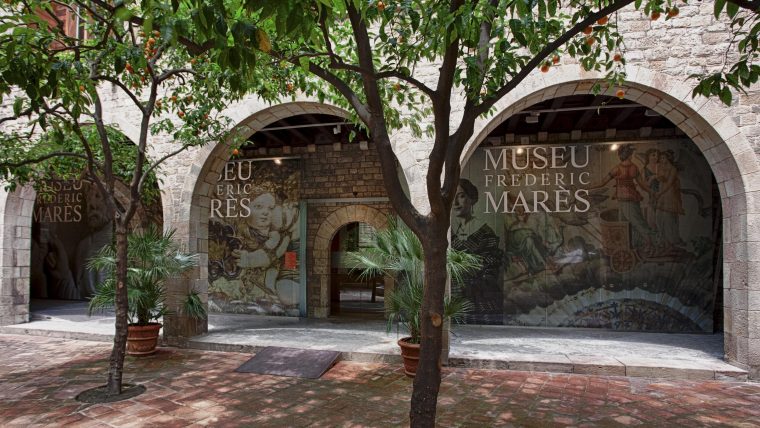 The Frederic Marès Museum preserves and displays the collections gathered by its founder, the sculptor Frederic Marès.
The Frederic Marès Museum, located in part of the old Palau Reial Major, the royal palace of the counts of Barcelona, is a unique collector's museum that still houses the pieces gathered by its founder, the sculptor Frederic Marès (1893-1991), who, through his donation, became part of Barcelona's heritage in 1946.
Frederic Marès accrued an extensive collection of Hispanic sculpture, from ancient times to the nineteenth century, in which religious polychrome predominates, forming the largest single section of the museum. Marès also donated part of his own sculptural work, which is displayed in his library office.
Tens of thousand of objects are displayed in the collector's office, forming a huge collection of collections and documenting ways of life and customs from the past, mainly from the 19th century.
Take a look at the offers available to members of the Gaudir Més programme.
Titularitat:

or
Traductor de

:
Schedule
Days
Hours
Preus
Observation

De dimarts a dissabtes

de 10:00 h a 19:00 h

Entrada general: 4.2 €




Reduïda: 2.40 €:

- Grups (+ 10 p)

- Persones de 16 a 29 anys

- Majors de 65 anys

- Jubilats

- Persones a l'atur

- Targeta rosa reduïda

- Família nombrosa i monparental

- Carnet de Biblioteques




Gratuït:

- Menors de 16 anys

- Registrats al programa Gaudir+BCN

- Carnet de l'ICOM

- Guies turístics professionals

exercint la professió

- Professors d'ensenyament

reglat acreditat

- Periodistes acreditats

- Carnet Associació Museòlegs

de Catalunya

- Targeta rosa gratuïta

- Passi metropolità d'acompanyant

- 1r diumenge de mes

- Diumenges (de 15 a 20 h)

- 12 de febrer (Santa Eulàlia)

- 18 de maig (Dia Internacional dels Museus)

- 16 de juny (Corpus)

- 24 de setembre (La Mercè)

Validant el tiquet
d'entrada es pot gaudir
d'una segona visita dins
els sis mesos següents.

Diumenge i festius excepte 1 gener, 1 maig, 24 juny i 25 desembre

d'11:00 h a 20:00 h

La Nit dels Museus 2023:

13 de maig

de 19.00 h a 01.00 h

Entrada Gratuïta

Cal reserva anticipada
Sections of this equipment
El Museu Marès permet resseguir la història de l'art a través del col·leccionisme. Claus, ventalls, pipes, amulets, baralles de cartes espanyoles, bastons.
Museu de col·lecionista per excelència, consta de dues seccions ben diferenciades, pràcticament dos museus autònoms: la col·lecció d'escultura hispànica, en gran part de talla policromada, des del món ibèric fins a l'inici del segle XX, i el gabinet del col·leccionista, col·lecció de milers d'objectes de la vida quotidiana burguesa que Frederic Marès denominà Museu Sentimental.
Address:

Plaça de Sant Iu, 5

District:

Ciutat Vella

Neighborhood:

el Barri Gòtic

City:

Barcelona
Address

Plaça de Sant Iu, 5
Website
E-mail
E-mail:

museumares@bcn.cat
If you would like to make a correction related to this organisation or facility...let us know