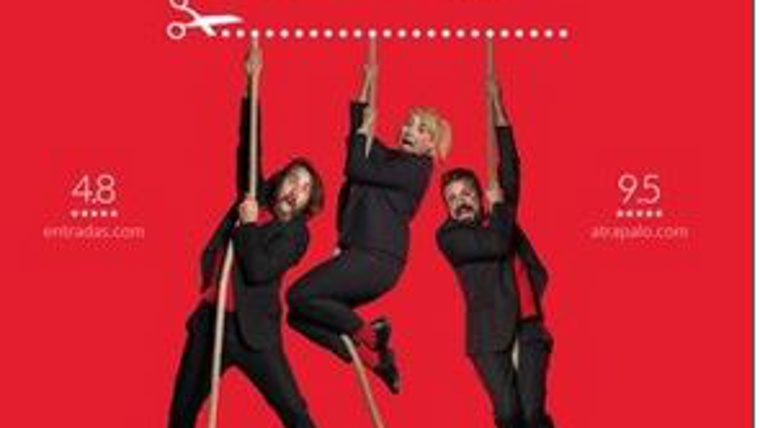 Amb 11 temporades d'èxit continuat, i sumant, al carrer Gran Via de Madrid, Corta el Cable Rojo és l'espectacle més longeu i més ben assentat de la milla d'or del teatre al país. Han estat el seu audaç i inexistent llibret, el plantejament original, la novetat constant i el humor inevitable dels factors que han fet que el públic esclati del riure i segueixi apostant per aquesta obra d'improvisació sense igual.
Ara, la comèdia més hilarant dels darrers anys arriba al Teatre Apolo de Barcelona.
Aquest mític escenari català acull tres còmics genials, Rubén Tejerina, Mai Boncompte i Manu Pradas, que actuen acompanyats de música en directe i agosarades projeccions, així com de la complicitat i les riallades que provenen del pati de butaques.
Les propostes inesperades del públic donen lloc a personatges desbocats, situacions insospitades, reptes impossibles, balls sorprenents, cançons tronchantes… Tot s'alinea per oferir vuit números diferents, cadascú més arriscat i ocorrent, que conformen l'espectacle d'humor que està revolucionant la cartellera.
Només cal esperar la sortida del públic per veure en els seus somriures les conseqüències d'haver assistit al teatre d'improvisació més divertit. El boca a boca, les impressionants valoracions a les webs d'entrades i el cartell de localitats esgotades cada setmana són l'altre reflex de l'èxit de Corta el Cable Rojo.
Ara és el torn a Barcelona. Arriba la comèdia més explosiva.
Schedule
Days
Hours
Preus

Dissabte

a les 23.30 h

Entrada general: 21.3 €




(+ despeses de gestió)

Diumenge

a les 20.00 h
Others
Occur on:

Tickets sold at:
Address:

Avinguda del Paral·lel, 57 - 61

District:

Sants-Montjuïc

Neighborhood:

el Poble-sec

City:

Barcelona
Where
When

From 30/09/2023 to 03/12/2023
Website
Web venda d'entrades:
You may also be interested in...
If you would like to make a correction related to this activity...let us know