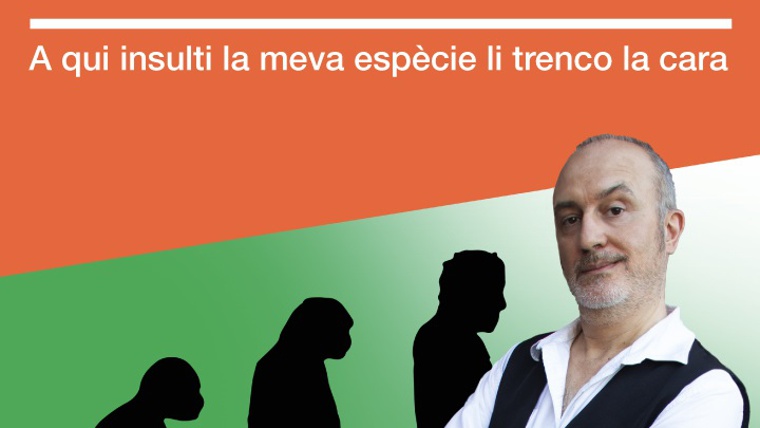 "El món és una merda i l'ésser humà és idiota". Aquesta frase resumia la manera de pensar dels clients del meu bar. No cal dir que jo sempre m'hi afegia. Fins que un dia vaig decidir defensar la meva espècie…
El Sr. Bohigues és excambrer i col·laborador del programa de ràdio VERSIÓ RAC1 des de fa 15 temporades. Màxima audiència de les tardes a Catalunya. També va col·laborar amb els programes Còmics i Còmics Show de TV3.
L'eminència humana és un espectacle d'humor que va a contracorrent en un món clarament pessimista. Ben aviat ens adonem que ens trobem davant d'una evolució del popular personatge radiofònic, televisiu i teatral Sr. Bohigues. Divertit com sempre, però aquest cop va més enllà i ens mostra un humor sorprenentment humanista!
Fitxa artística:
Autoria: Eduard Biosca Riera
Intèrpret:
Eduard Biosca Riera – Senyor Bohigues
Escenografia i vestuari: Eduard Biosca Riera
Il·luminació: Roger Muñoz
Cap tècnic del teatre: Roger Muñoz
Màrqueting i comunicació: Focus
Reportatge fotogràfic: Estudi de fotografia BadiaCasanova 
Disseny d'imatge: Laia Biosca Jiménez
Aplicacions gràfiques: Santi&Kco
 És una producció de Bohigues Produccions
Schedule
Days
Hours
Preus

22 octubre,
26 novembre i
17 desembre

a les 20.45 h

Entrada general: 18 €




(Més despeses de gestió)
Others
Occur on:

Tickets sold at:
Address:

C Joaquín Costa, 68

District:

Ciutat Vella

Neighborhood:

el Raval

City:

Barcelona
Where
When

From 22/10/2023 to 17/12/2023
Website
Web venda d'entrades:
You may also be interested in...
If you would like to make a correction related to this activity...let us know