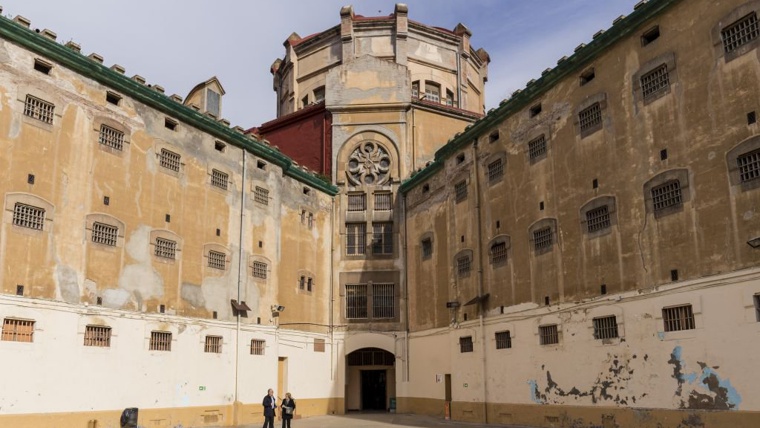 Per previsió d'excés d'aforament, el diumenge 1 d'octubre no es podrà visitar l'interior de La Model. Només es podrà accedir al pati d'entrada i a la sala d'actes.
History. Open days for visiting the old prison for free at your own pace.
The former La Model prison is opening to the public and resuming its free visits, without guides, every Thursday, Friday, Saturday and Sunday, except for public holidays.
Visitors will be free to tour one of the most imposing buildings of 1900s Barcelona and visit the prison's most notable areas, including its yards, galleries, cells and central panopticon.
All you need to do to visit is get along to the former prison during its opening times. No prior booking is required.
- Smoking, drinking and eating are not permitted on the site.
- Pets are not allowed in La Model, with the exception of guide dogs.
Schedule
Days
Hours
Preus

Divendres excepte festius

de 16.00 h a 18.00 h

Entrada Gratuïta

Dissabte excepte festius

de 10.00 h a 14.00 h i
de 16.00 h a 18.00 h

Diumenge excepte festius

de 10.00 h a 14.00 h
Les visites lliures a La Model (sense guia) es celebraran els divendres, dissabtes i diumenges. No caldrà reserva prèvia d'entrades.
- No és permès fumar, beure ni menjar dins el recinte
- No es pot accedir a la Model amb animals domèstics, excepte aquells que siguin d'assistència
Address:

Carrer d'Entença, 155

District:

Eixample

Neighborhood:

la Nova Esquerra de l'Eixample

City:

Barcelona
Where
When

Permanent event
Website
If you would like to make a correction related to this activity...let us know