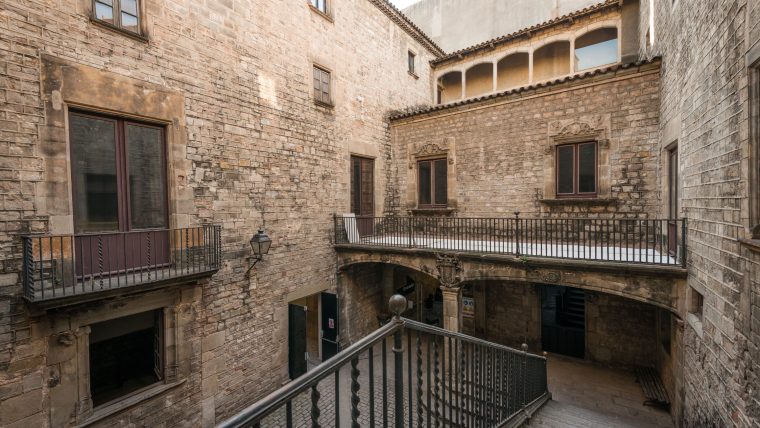 The Museum of World Cultures showcases the artistic and cultural diversity of the peoples of Africa, Asia, America and Oceania.
Founded in 2012 in La Ribera, the Museum of World Cultures brings together a selection of more than 30,000 pieces from the Ethnology Museum, originating from Asia, America, Africa and Oceania, and 2,356 works from the Folch Collection, the most important non-Western art collection in Catalonia.
Within this heritage, there is a representative collection of 19th and 20th century Western and Central African arts, alongside Mayan ceremonial hatchets and Chimú textiles from the pre-Columbian collection. The Asian section takes you on a tour from Buddhist Gandhāra images and Indian Hindu sculpture to Tibetan and Japanese art. Pieces from Oceania include painted bark from Australia and Rapa Nui wooden mo'ai sculptures from Easter Island.
Check out the offers available for users of the Gaudir Més programme.
Accessible for people with physical disabilities
Titularitat:

or
Schedule
Period
Days
Hours
Preus

De l'1 octubre al 30 abril

De dimarts a dissabtes

de 10:00 h a 19:00 h

Entrada general: 5 €




Reduïda (caldrà acreditar la condició): 3.50 €

- Persones de 16 a 29 anys

- Persones de 65 anys o més

- Titulars targeta rosa reduïda

- Persones a l'atur

- Titulars del carnet de familia nombrosa o monoparental

- Titulars del carnet de Biblioteques de Barcelona

- Famílies màxim 2 adults, sempre que un sigui tutor legal




Gratuïta (caldrà acreditar la condició):

- El 1r diumenge de cada mes de 10 a 20 h

- Tots els diumenges de 15 a 20 h

- Menors de 16 anys

- Registrats al programa Gaudir+BCN

- Titulars targeta rosa gratuïta

- Titulars passi metropolità d'acompanyant d'un discapacitat

- Carnet de l'ICOM

- Membres acreditats Ass. Museòlegs Catalunya

- Professors ensenyament reglat

acreditats

- Professors ensenyament reglat

quan aconpanyin grups d'estudiants

- Els guies turístics en l'exercici de la seva feina

- Els periodistes acreditats

- Titulars targeta BCN Card

- 12 de febrer (Santa Eulàlia)

- 18 de maig(Dia Internacional dels Museus)

- 24 i 25 de setembre (Mare de Déu de la Mercè)

Diumenge i festius excepte 25 desembre, 26 desembre, 1 gener i 6 gener

de 10:00 h a 20:00 h

De l'1 maig al 30 setembre

Dimarts, dimecres, dijous, divendres, dissabte i diumenge i festius excepte 1 maig i 24 juny

La Nit dels Museus 2023:

13 de maig

de 19.00 h a 01.00 h

Entrada Gratuïta
Ubicat a les cases senyorials Nadal i Marquès de Llió.
Address:

Carrer de Montcada, 12

District:

Ciutat Vella

Neighborhood:

Sant Pere, Santa Caterina i la Ribera

City:

Barcelona
Address

Carrer de Montcada, 12
Website
E-mail
E-mail:

museuculturesmon@bcn.cat
If you would like to make a correction related to this organisation or facility...let us know