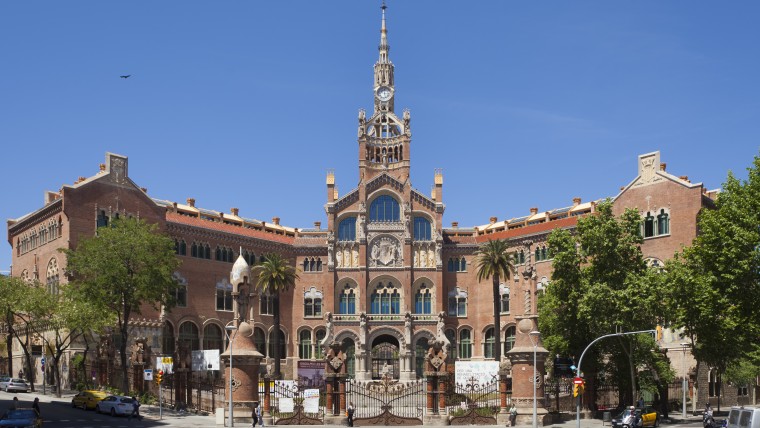 The Sant Pau Modernista complex was designed by the architect Lluís Domènech i Montaner.
The Sant Pau Modernista complex has become a new benchmark site in Barcelona where history and innovation stand side by side. The restoration of its Modernista pavilions, declared a World Heritage by UNESCO in 1997, has enabled the launching of a cultural programme aimed at highlighting this gem of European Modernisme. Its cornerstones are the figure of Lluís Domènech i Montaner and his contribution to the Modernista movement, as well as the heritage and institutional value of Sant Pau and its contribution to medicine.
Sant Pau is also a knowledge centre made up of cutting-edge institutions in the fields of sustainability, health care and education, to name but a few.
Schedule
Days
Hours
Preus

Cada dia excepte 25 desembre

de 10.00 h a 18.30 h

Entrada general de: 16 a 20 €




Visita lliure: 16 €

Visita guiada: 20 €

Audioguia: 4 €




Entrada reduïda

- Visita lliure: 11.2 €

- Visita guiada: 14 €




. Residents a Barcelona

. Majors 65 anys

. Targeta Rosa reduïda

. Joves de 12 a 29 anys

. Discapacitats grau inferior a 65%

. Titulars del carnet de família nombrosa o monoparental




Entrada gratuïta (cal obtenir entrada a taquilla):

- Menors 12 anys (acompanyats d'un adult)

- Persones aturades i en ERTO

- Targeta Rosa gratuïta

- Persones discapacitades amb grau superior o igual al 65%

- Programa Amic veí

- 23 d'abril (Sant Jordi)

- 24 setembre (Festivitat de la Mercè)




Descomptes 20%:

BCN Card, Bus Turístic, City Tours, Carnet de Biblioteques, Club TR3SC, socis d'Òmnium Cultural




Descomptes 50%:

Ruta del Modernisme, Carnet Jove, membres Col·legi Oficial de Metges de Barcelona i Col·legi Oficial d'Infermeres i Infermers de Barcelona. 




Grups (màxim 20):

- General: 250 €

- Reduïda: 180 €

La Nit dels Museus 2023:

13 de maig

de 19.00 h a 01.00 h

Entrada Gratuïta

Cal reserva prèvia
Sections of this equipment
Address:

Carrer de Sant Antoni Maria Claret, 167

District:

Horta-Guinardó

Neighborhood:

el Guinardó

City:

Barcelona
Address

Carrer de Sant Antoni Maria Claret, 167
Website
E-mail
E-mail:

recintemodernista@santpau.cat

E-mail:

visites@fundaciosantpau.cat
If you would like to make a correction related to this organisation or facility...let us know