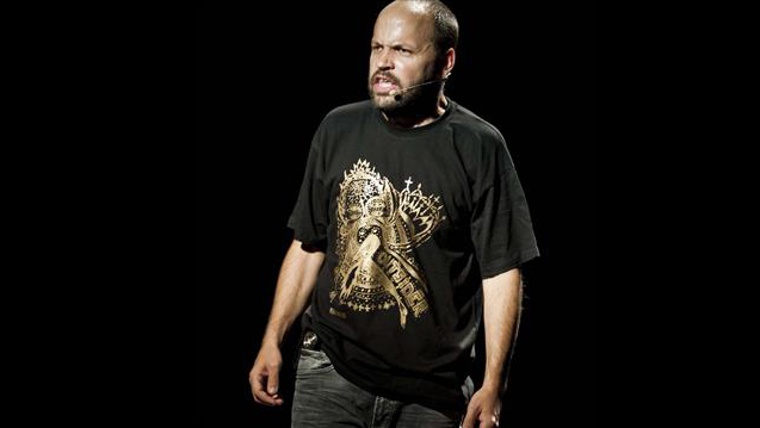 Espectacles. Idees autoreflexives, improvisació i comèdia acompanyen Miguel Noguera en el nou espectacle del Goya.
L'humorista Miguel Noguera arriba al Teatre Goya per convidar-vos a un espectacle en solitari molt especial. Tots els divendres, fins al 10 de desembre, l'artista presenta Ultrashow. Ultrashow , un monòleg improvisat que es debat entre la conferència i la peça teatral. 
Amb una durada aproximada d'una hora, l'artista explica unes 30 o 40 idees que no segueixen cap ordre aparent. Aquestes neixen d'anotacions i dibuixos que elabora diàriament. Encara que l'espectacle sigui còmic, les idees no tenen per què ser-ho en si mateixes. Per la seva banda, el to emprat és vehement, amb matisos suaus o col·loquials que fan presència a estones de l'espectacle. Per tancar Ultrashow , Noguera du a terme una lectura, en veu alta, d'un breu text autoreferent. No us ho perdeu!
Traductor de

:
Schedule
Days
Hours
Preus

8 octubre,
22 octubre,
12 novembre,
26 novembre i
10 desembre

a les 22.30 h

Entrada general: 15 €




(+ despeses de gestió)
A l'Ultrashow explico unes 30-40 idees, una darrere l'altra, i sense importar massa l'ordre. Dura aproximadament una hora i estic sol a escena. Les idees les extrec del material d'anotacions i dibuixos que elaboro a diari. És un espectacle còmic tot i que les idees no tenen per què ser còmiques en sí mateixes. Per a desenvolupar determinades idees faig servir imatges projectades. El to del discurs és vehement, i en ocasions es torna suau o col·loquial. Si bé porto apuntats en un paper els títols de les idees que vull comunicar, l'Ultrashow és un monòleg improvisat, a mig camí entre la conferència i la peça teatral.
L'inclassificable humorista Miguel Noguera presenta el seu monòleg Ultrashow en les sessions del divendres del Teatre Goya.
Address:

C Joaquín Costa, 68

District:

Ciutat Vella

Neighborhood:

el Raval

City:

Barcelona
When

From 08/10/2021 to 10/12/2021
Phone number
Tel.:

933435323
Website
Web venda d'entrades:
You may also be interested in...
If you would like to make a correction related to this activity...let us know