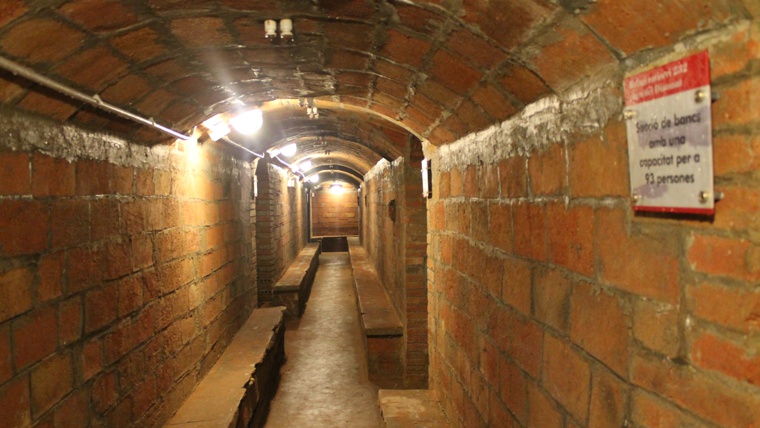 Archaeology. An exceptional opportunity to visit an air-raid shelter.
The air-raid shelter in Plaça del Diamant was one of over 90 shelters in the Gràcia neighbourhood and one of the largest of the 1,300 built in Barcelona, one of the first cities to be systematically bombed from the air in a war.
As a way of recovering historical memory, the Taller d'História de Gràcia offers guided tours around the shelter every Sunday. The tours are a good way of discovering the complex of tunnels which make up the shelter and which saved so many lives.
Traductor de

:
Schedule
Days
Hours
Preus
Observation


1r Diumenge de mes, 3r Diumenge de mes, 4rt Diumenge de mes, 5é Diumenge de mes

a les 11:00 h

Entrada general de: 3 € (Públic)
Cal reserva prèvia

Grups: mínims de 20 persones
ó 60 € per grup

Visita en català.

Cal concertar visita
Els grups poden triar el dia
i hora de visita


2n Diumenge de mes

Visita en castellà.

Visita en anglès,
demaneu informació.
Others
Occur on:

Organised by:
Es fan visites per a les escoles, grups i públic en general.
Organitzat per el Centre d'estudis Taller d'Història de Gràcia.
Aquest refugi formava part dels més de 90 refugis que hi havia al barri, i és un dels més grans dels 1.300 que es van construir a Barcelona, una de les primeres ciutats bombardejades sistemàticament des de l´aire en un conflicte bèl·lic. Avui dia, per recuperar la memòria, el Taller d´Història de Gràcia ofereix cada diumenge, a les 11.00 hores, visites guiades per explorar l´indret, i val la pena apuntar-s´hi per descobrir l´entramat de túnels que el formen i que van salvar tantes vides.
Address:

Pl Diamant, 10

District:

Gràcia

Neighborhood:

la Vila de Gràcia

City:

Barcelona
When

Permanent event
Phone number
Reservations:

93 219 61 34 (Taller Història Gràcia) Dl a dv de 10.30 a 14 i dl a dj de 16.30 a 19 h

Reservations:
E-mail
E-mail reserves:

tallerhistoriagracia@gmail.com
Social networks
If you would like to make a correction related to this activity...let us know