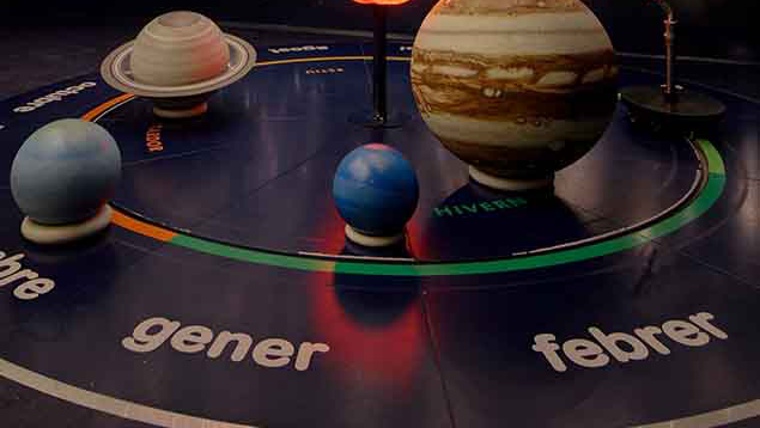 El Planetari Bombolla és un espai perfecte per despertar la curiositat sobre l'univers. Aquí, els infants podran gaudir del seu primer contacte amb el món de l'astronomia sense necessitat de fer-ho de nit i amb l'ajuda d'un educador que els guiarà en tot moment.
Sobre la cúpula podran veure el firmament tal com el podem observar des de la Terra, i a la sala, mitjançant una maqueta del Sol, la Terra i la Lluna, i reproduccions a escala dels planetes. Entendran els moviments bàsics de la Terra i de la Lluna, i descobriran les principals característiques dels diferents planetes del sistema solar.
El Sol, la Lluna, els estels, els planetes ... formen part del dia a dia dels infants, i els susciten gran curiositat i interès. Al Planetari Bombolla es pretén acostar els més petits al món de l'astronomia d'una manera rigorosa i motivadora, en un espai especialment dissenyat per reproduir la màgia de l'observació del cel.
A través de la maqueta Sol-Terra-Lluna i l'observació dels seus moviments, podran interpretar el cicle de dia i nit, les fases de la Lluna, les estacions o els eclipsis. Comparant els planetes a través de representacions a escala, en podran descobrir les característiques principals i, a partir de la recreació del cel nocturn visible des de la nostra latitud, aprendran a reconèixer algunes constel·lacions i a prendre consciència del moviment aparent dels astres pel cel.
Edat recomanada: De 5 a 8 anys.
Schedule
Days
Hours
Preus
Observation

Dissabte, diumenge i festius

a les 10.30 h

Entrada general: 6 €




Descompte 50%: Clients CaixaBank

a les 14.00 h i
a les 18.00 h
Address:

Carrer d'Isaac Newton, 26

District:

Sarrià-Sant Gervasi

Neighborhood:

Sant Gervasi - la Bonanova

City:

Barcelona
Where
When

From 24/06/2023 to 17/12/2023
Website
You may also be interested in...
If you would like to make a correction related to this activity...let us know