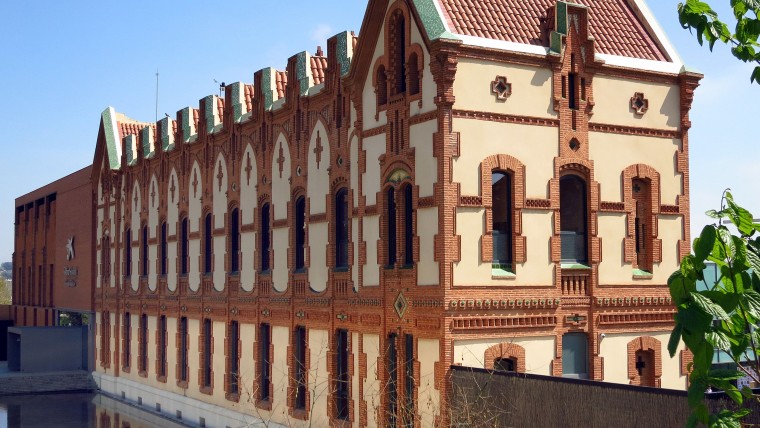 CosmoCaixa, Barcelona's science museum, is housed in a Modernista building dating from 1909.
CosmoCaixa, Barcelona's science museum, is housed in a Modernistabuilding dating back to 1909 and now dedicated to cutting-edge science.
Its unique spaces and exhibitions notably include the new permanent Sala Univers hall, where visitors can discover the cosmos and its evolution from the Big Bang up to now. An interactive tour goes back to the creation of the cosmos, examining the evolution of species and delving into the inner recesses of the human brain. The " Bosc inundat" [The Flooded Forest], which recreates the Amazonian ecosystem inside a 1,000 square-metre greenhouse featuring piranhas, crocodiles and other animal and plant species typical of the Amazon region. The " Mur geològic" [The Geological Wall], made up of seven cross-sections of genuine rock that enable interpretations of the world's geology.
CosmoCaixa also offers other exhibitions, activities and spaces dedicated to science for kids, adults and families: the Clik, the Planetarium, the Bubble Planetarium, the Creactivity and other family workshops.
Designed by the architect Josep Domènech i Estapà, this building was originally a refuge for the blind, known as the Empar de Santa Llúcia, which closed in 1979. Two years later, the building re-opened as the first popular science museum in the whole of Spain, and one of the best in Europe, offering an innovative project aimed at taking science to the public. Following a refurbishment in 2004 that expanded the museum's facilities to their current 50,000 square metres, it was renamed CosmoCaixa, the name it still bears today.
Accessible for people with physical disabilities
Titularitat:

tor
Schedule
Days
Hours
Preus
Observation

Cada dia i festius excepte 24 desembre, 25 desembre, 31 desembre, 1 gener, 5 gener i 6 gener

de 10:00 h a 20:00 h

Entrada general: 6 €

Activitats: 6 e




Gratuït:

- joves fins al 16 anys

- clients "La Caixa"

- 12 de febrer (Santa Eulàlia)

- 24 de setembre (la Mercè)

L'entrada general

inclou accés al museu i a les exposicions.

24 desembre,
31 desembre i
5 gener

de 10:00 h a 18:00 h

La Nit dels Museus 2023:

13 de maig

de 19.00 h a 01.00 h

Entrada Gratuïta

Cal reserva prèvia
Address:

Carrer d'Isaac Newton, 26

District:

Sarrià-Sant Gervasi

Neighborhood:

Sant Gervasi - la Bonanova

City:

Barcelona
Address

Carrer d'Isaac Newton, 26
Website
E-mail
E-mail:

icosmocaixa@magmacultura.com
If you would like to make a correction related to this organisation or facility...let us know