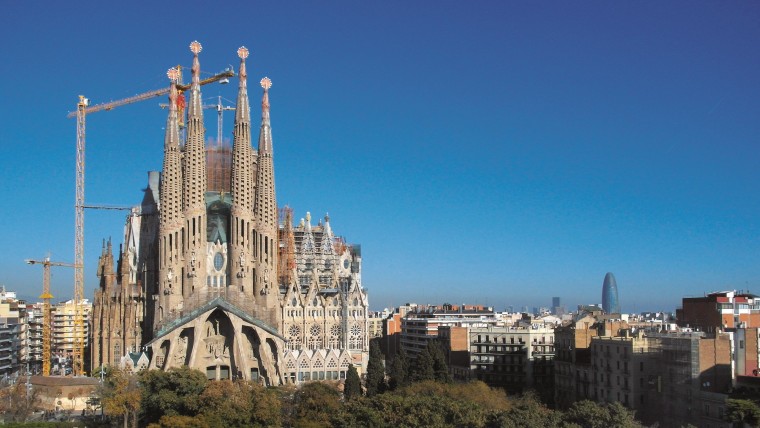 The temple, located in the right hand area of the district of L'Eixample, has been declared a UNESCO World Heritage Site.
The Sagrada Família, the ultimate symbol of Barcelona and work of the Modernista architectural genius Antoni Gaudí, is of immeasurable architectural value.
The Sagrada Família temple takes up an entire street block between C/ Mallorca and C/ Provença and is one of the most visited sites in Barcelona. Work started in 1883 and to this day follows the plans by Gaudí, who, aware that he would not see the completion of the temple, passed them onto his successors.
Traductor de

:
Schedule
Period
Days
Hours
Preus
Observation

De l'1 novembre al 28 febrer

De dilluns a dissabte excepte 25 desembre, 26 desembre, 1 gener i 6 gener

de 09.00 h a 18.00 h

Entrada general de: 26 a 30 €

Sagrada Familia-App Audioguia:

. general: 26 €

. menors 30 anys i estudiants: 24 €

. jubilat: 21 €

. persones amb discapacitat i acompanyants: 8 €

. menors d'11 anys: gratuït




Sagrada Familia amb Visita Guiada

. general: 30 €

. menors 30 anys i estudiants: 28 €

. jubilat: 23 €

. persones amb discapacitat i acompanyants: 4 €

. menors d'11 anys: gratuït




Les entrades només es poden comprar en línia.




Diumenge

de 10.30 h a 18.00 h

25 desembre,
26 desembre,
1 gener i
6 gener

de 09.00 h a 14.00 h

De l'1 març al 31 març

De dilluns a dissabte

de 09.00 h a 19.00 h

Diumenge

de 10.30 h a 19.00 h

De l'1 abril al 30 setembre

De dilluns a dissabte

de 09.00 h a 20.00 h

Diumenge

de 10.30 h a 20.00 h

De l'1 octubre al 31 octubre

De dilluns a dissabte

de 09.00 h a 19.00 h

Diumenge

de 10.30 h a 19.00 h
Address:

Carrer de Provença, 450

District:

Eixample

Neighborhood:

la Sagrada Família

City:

Barcelona
Address

Carrer de Provença, 450
Website
E-mail
E-mail:

informacio@sagradafamilia.org

E-mail:

press@sagradafamilia.org

E-mail:

informacio@sagradafamilia.org

E-mail:

press@sagradafamilia.org
If you would like to make a correction related to this organisation or facility...let us know