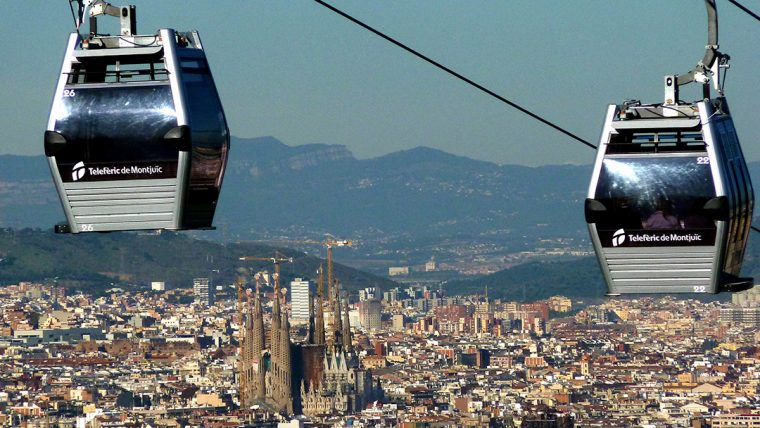 Soak in the impressive view of the city of Barcelona from the Montjuïc cable car, and visit some of the mountain's best cultural offerings.
The Montjuïc cable car affords a panoramic aerial view of Barcelona from which you can contemplate some of the city's most emblematic buildings, such as the Sagrada Família or Torre Agbar.
The cable car stops in three places along its journey. The first is on Miramar Avenue, by the Montjuïc funicular station that connects the mountain to El Paral·lel road. From here, you can visit the Catalan National Art Museum, the Miró Foundation, the Ethnology Museum, the Poble Espanyol open-air architectural museum, the Olympic Ring and the Olympic and Sports Museum.
From the second stop, Mirador, you can visit the famous Mirador de l'Alcalde vantage point, a landscaped terrace with exceptional views over the Port of Barcelona. Nearby you will also find the Mossèn Costa i Llobera gardens, one of Europe's most important specialised gardens dedicated to cacti and succulent plants.
The last stop is Montjuïc Castle, an old military fortress built in 1640 that you can now visit and enjoy a host of cultural and family activities.
Check out the offers available for users of the Gaudir Més programme.
Accessible for people with physical disabilities
Titularitat:

or
Traductor de

:
Schedule
Period
Days
Hours
Preus

De l'1 novembre al 28 febrer

Cada dia

de 10.00 h a 18.00 h

Entrada general de: 9.4 a 14.2 €

Entrada d'adult:

9,40 € anada
14,20 € anada i tornada




Entrada infantil (de 4 a 12 anys)

7,50 € anada
10,20 € anada i tornada




Menors 4 anys: gratuït




El bitllet d'anada només es pot adquirir a les taquilles del Telefèric

De l'1 març al 31 maig

de 10.00 h a 19.00 h

De l'1 juny al 30 setembre

de 10.00 h a 21.00 h

De l'1 octubre al 31 octubre

de 10.00 h a 19.00 h
Uneix el parc de Montjuïc (av Miramar, entre el Viver de Tres Pins i camí del Castell al costat de l'estació superior del funicular de Montjuïc) amb el Mirador (Mirador de l'Alcalde, al costat de l'antic parc d'atraccions) i el Castell de Montjuïc.
Address:

Av Miramar, 20*30

District:

Sants-Montjuïc

Neighborhood:

el Poble-sec

City:

Barcelona
Address

Av Miramar, 20*30
Website
If you would like to make a correction related to this organisation or facility...let us know