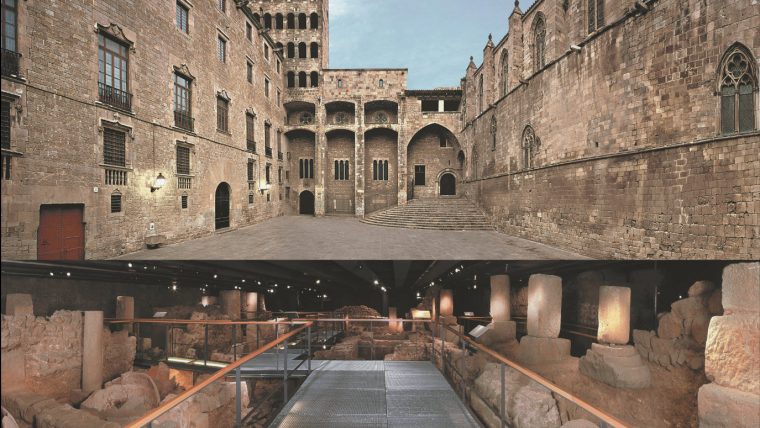 Accés provisional Carrer Tapineria
The monumental site in Plaça del Rei is the founding nucleus of the MUHBA and has been since the museum was set up in 1943.
The Barcelona History Museum (MUHBA) preserves, studies, documents, promotes and exhibits the city's historical heritage, from the origins of the city through to the present day. The museum has various important historical heritage sites, located around the city's neighbourhoods and districts. The main museum building is the Casa Padellàs, one of a series of building forming the monumental site in Plaça del Rei, in the Gothic quarter.
The historian Agustí Duran i Sanpere was behind the initial project and was the first director of the museum, which opened on 14 April 1943.
Check out the offers available for users of the Gaudir Més programme.
Titularitat:

or
Traductor de

:
Schedule
Days
Hours
Preus
Observation

Dimarts, dimecres, dijous, divendres i dissabte

de 10.00 h a 19.00 h

Entrada general: 5 €

Degut a les obres de reforma les entrades generals tenen el preu de l'entrada reduïda.




Entrada reduida: 5 €

· Grups superiors a 10 persones

· Estudiants menors de 29 anys

· Majors de 65 anys

· Targeta rosa reduïda

· Carnet família nombrosa

. Carnet família monoparental

· Carnet de biblioteques de Barcelona




Entrada gratuïta:

· Primer diumenge de mes

· Resta de diumeges de 15 h a tancament

· Registrats al programa Gaudir+BCN

· Amics del MUHBA

· Menors de 16 anys

· Membres acreditats de ICOM

· Membres acreditats de Associació Museòlegs Catalunya

· Guies turístics

· Professors ensenyaments reglats

· Targeta rosa gratuïta

· Passi metropolità

· Acompanyant persona discapacitada

· Periodistes

. 12 de febrer (Santa Eulàlia)

· 18 de maig (Dia Internacional dels Museus)

· 24 de setembre (La Mercè)

Entrada combinada per tots els centres del MUHBA

Dóna dret a visitar:

- Temple d'August

- Plaça del Rei

- Via Sepulcral Romana

- Domus de Sant Honorat

- Domus d'Avinyó

- el Call

- Santa Caterina

- Vil·la Joana

- Fabra i Coats

- Oliva Artés

- Casa de l'Aigua

- Refugi 307

- Turó de la Rovira

- la Porta de Mar

- les Termes Portuàries.

Per la Casa del Guarda la
presentació d'aquesta entrada
dóna dret a un descompte
del 21% en l'entrada
del Park Güell.

Mostrant l'entrada del
Park Güell hi ha una promoció del 50% en el preu de l'entrada combinada.

Diumenge i festius excepte 1 maig, 24 juny, 25 desembre i 1 gener

de 10.00 h a 20.00 h

La Nit dels Museus 2023:

13 de maig

de 19.00 h a 01.00 h

Entrada Gratuïta
Address:

Plaça del Rei, 7*9

District:

Ciutat Vella

Neighborhood:

el Barri Gòtic

City:

Barcelona
Address

Plaça del Rei, 7*9
Phone number
E-mail
E-mail:

reservesmuhba@eicub.net

E-mail:

museuhistoria@bcn.cat
If you would like to make a correction related to this organisation or facility...let us know