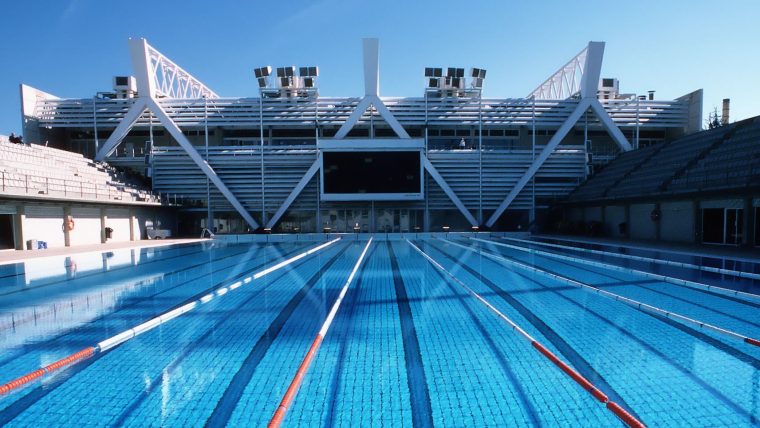 Consulta els canvis en la mobilitat al Parc de Montjuïc durant els partits del Futbol Club Barcelona a l'Estadi Olímpic Lluís Companys. Per accedir en aquest equipament caldrà presentar acreditació.
mobilitat.barcelona/fcb-a-montjuic
These swimming pools in Montjuïc's Olympic Ring attract thousands of people in the summer.
Piscines Bernat Picornell are three swimming pools open to the public: an indoor pool, an outdoor pool (both 50m) and a diving pool. They opened in 1970 for the 12th European Swimming Championships (1972) and were renovated in 1990 to hold the swimming and synchronised swimming competitions, the final stage of the water polo tournament and the modern pentathlon at the 25th Olympic Games (1992). Since then they have staged some major international events, including synchronised swimming at the 2003 World Swimming Championships and the 2013 World Swimming Championships.
Accessible for people with physical disabilities
Titularity:

or
Schedule
| Period | Days | Hours | | |
| --- | --- | --- | --- | --- |
| De l'1 setembre al 30 juny | De dilluns a divendres | de 06.45 h a 00.00 h | | |
| | Dissabte | de 07.00 h a 21.00 h | | |
| | Diumenge i festius | de 07.30 h a 16.00 h | | |
| De l'1 juliol al 31 agost | De dilluns a divendres | de 06.45 h a 00.00 h | | |
| | Dissabte | de 07.00 h a 21.00 h | | |
| | Diumenge i festius | de 07.30 h a 19.00 h | | |
Address:

Av Estadi, 30*40

District:

Sants-Montjuïc

Neighborhood:

el Poble-sec

City:

Barcelona
Address

Av Estadi, 30*40
Website
E-mail
E-mail:

info@picornell.cat
If you would like to make a correction related to this organisation or facility...let us know