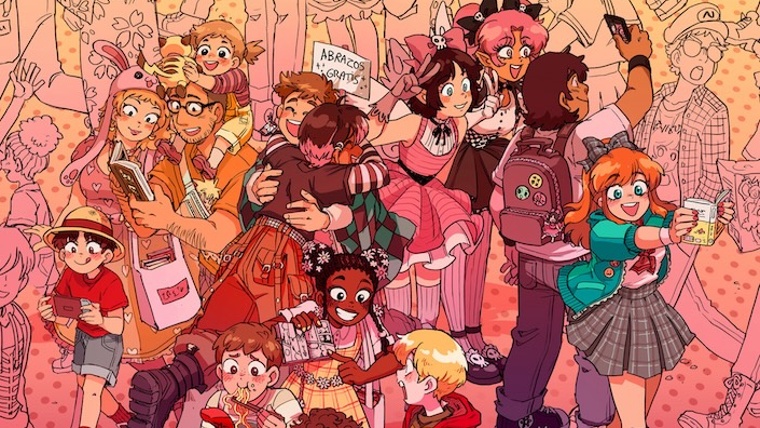 Manga. At the event you'll be able to try a truly delicious sweet treat, a crema catalana mochi created by Escribà Dreams by Gokoro exclusively for the event.
The 29th edition of Manga Barcelona will be held from 7 to 10 December. The event aims to highlight the transformation and evolution of manga and all things related to it over the last few decades. Although Japan is, and will continue to be, the cradle of otaku culture, this new edition will show that the language
of manga is already spoken worldwide.
For four days you'll be able to enjoy the latest news from the sector, round tables, talks, meetings with authors, competitions and lots of other activities.
A new feature this year is the Manga Stream, a room focused on audiovisual media that will be hosting a programme of interviews with some of the event's key players, as well as podcast sessions from the sector.
Schedule
Days
Hours
Preus
Observation

Dijous, divendres, dissabte i diumenge

de 10.00 h a 20.00 h

Entrada general: 15 €




Abonament 4 dies: 50 €




Entrada descompte amb Carnet Jove i FANOC: 13 €




Entrada gratuïta infantil pels menors de 4 anys

Entrades a la venda el 27 de juliol
La gran cita per als aficionats al manga, l'anime i la cultura japonesa es celebrarà del 7 al 10 de desembre a Fira de Barcelona Gran Via. Ja ningú qüestiona la rellevància que tant el manga com l'anime tenen actualment en el món de l'art i l'entreteniment. El públic, cada vegada més ampli, ha crescut de forma notable entre els més joves, però sense oblidar als més veterans (molts dels quals ja venen acompanyats de les futures generacions d'aficionats). El Manga Barcelona s'ha convertit en el punt de trobada de referència per a milers i milers de fans de la cultura japonesa, una cita anual que atrau gent de tots els racons de la península i que cada vegada genera més interès per al públic estranger. Per a il·lustrar el cartell d'aquesta nova edició del Manga Barcelona s'ha comptat amb una de les autores més populars del moment: Míriam Bonastre. L'autora de Pineda de Mar, i formada a l'Escola Joso, va publicar amb gran èxit a la plataforma Webtoon el còmic juvenil Hooky (una obra amb clares influències del manga i l'anime). La seva versió en paper ha explotat a tot el món, apareixent en les llistes dels més venuts de The New York Times i convertint-se en l'autora de còmics més venuda a Europa el 2022. Bonastre ha volgut reflectir en el seu cartell el multitudinari i positiu ambient que es viu al Manga Barcelona, així com el retorn d'aquell contacte més estret que havíem trobat a faltar en passades edicions. També es poden trobar alguns dels elements clau de l'esdeveniment, com el manga, els videojocs, el cosplay, el menjar japonès i també aquest punt d'unió entre diferents generacions que representa el Manga Barcelona.
La 29ª edició seguirà apostant pels espais habituals i que sempre tenen una gran acollida (Manga Sports, Dance Stage, Japan Experience…). Els tallers de diferents temàtiques relacionades amb la cultura japonesa són un gran èxit i la oferta s'ampliarà. Els concursos de cosplay (amb grans referents com son el World Cosplay Summit (WCS) o l'Extreme Cosplay Gathering (ECG), els concursos d'idols i també els de K-Pop són ja imprescindibles. A més, enguany, el Manga Barcelona acollirà la final espanyola del concurs de coreografies K-Pop Dance Fight Fest.
Finalment, reiterant la idea del creixement del públic infantil i juvenil, Manga Barcelona segueix apostant per Manga Kids, aquesta espai ple de propostes dirigides al més petits, sempre acompanyats de la família, on podran dibuixar i aprendre sobre manga i la cultura japonesa que els arriba a través de la ficció.
Consulteu activitats en aquest enllaç.
Address:

Av Joan Carles I, 64

City:

Hospitalet llobregat
When

From 07/12/2023 to 10/12/2023
Website
Web:

Web venda d'entrades:
You may also be interested in...
If you would like to make a correction related to this activity...let us know