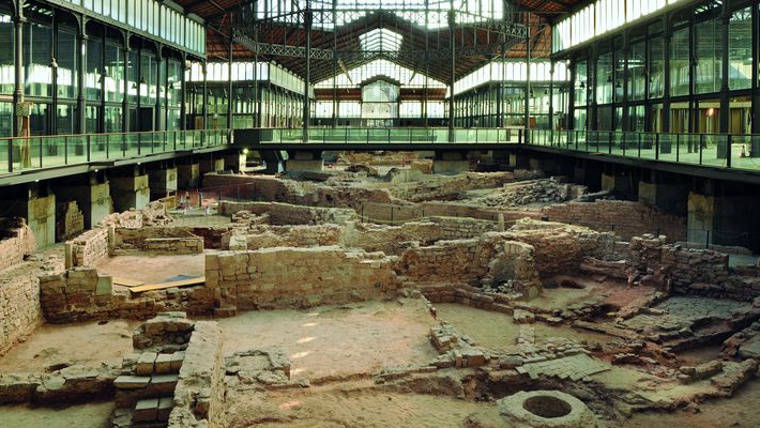 Visits and routes.. Visits and night-time routes to discover what music and dance were like in the Barcelona of the 1700s, slavery and dark episodes from this era.
How much do you know about 18th century Barcelona?
Whatever your answer may be, you now have the chance to take a trip back in time and discover much more.
We propose a journey back to the Barcelona of the 1700s, with guided tours and night-time itineraries focusing on different topics: music and dance, dark episodes in the history of El Born, the plague in Barcelona, the city's colonial history and many other moments from the past.
Programme
"Set històries del Born": Tuesdays in July and August, 8 to 10 pm
"Dansa i música a la Barcelona del 1700": Wednesdays in July and August, 8 to 10 pm
"Crònica negra al Born": Thursdays in July and August, 8 to 10 pm
"Barcelona en temps de pesta": Fridays in July and August, 8 to 10 pm
Routes around the neighbourhood of La Ribera
A different route every week:
"Esclavisme i ciutat. Una memòria colonial de Barcelona": Saturday 23 July and 27 August
"Les veus silenciades. Les dones del 1700": Saturday 30 July and 3 September
"Rec, Ribera, Born. Una ruta pel 1700": Saturday 2 July and 6 August
"La finestra indiscreta. Els veïns i les veïnes del 1700": Saturday 9 July and 13 August
"El Rec Comtal. Com l'aigua dibuixa la ciutat": Saturday 16 July and 20 August
Traductor de

:
Schedule
| | Days | Hours | Preus | |
| --- | --- | --- | --- | --- |
| | Dimarts, dimecres, dijous, divendres i dissabte | a les 20.00 h | Entrada general: 4 € | |
Others
Occur on:

Tickets sold at:

Organised by:
Tornen les propostes del "Born de nit". A l'estiu, et proposem endinsar-te a la Barcelona del 1700 a través de visites guiades i itineraris nocturns centrats en diferents temàtiques: la música i la dansa, la crònica negra del Born, la pesta a Barcelona, la memòria colonial de la ciutat i moltes altres històries
Programa:
Set històries del Born : Dimarts de juliol i agost, de 20 a 22 h
Dansa i música a la Barcelona del 1700: Dimecres de juliol i agost, de 20 a 22 h
Crònica negra al Born: Dijous de juliol i agost, de 20 a 22 h
Barcelona en temps de pesta: Divendres de juliol i agost, de 20 a 22 h
A més…
ITINERARIS PEL BARRI DE LA RIBERA. Un itinerari diferent cada setmana
Esclavisme i ciutat. Una memòria colonial de Barcelona: Dissabte 23 de juliol i 27 d'agost
Les veus silenciades. Les dones del 1700: Dissabte 30 de juliol i 3 de setembre
Rec, Ribera, Born. Una ruta pel 1700: Dissabte 2 de juliol i 6 d'agost
La finestra indiscreta. Els veïns i les veïnes del 1700: Dissabte 9 de juliol i 13 d'agost
El Rec Comtal. Com l'aigua dibuixa la ciutat: Dissabte 16 de juliol i 20 d'agos
Address:

Plaça Comercial, 12

District:

Ciutat Vella

Neighborhood:

Sant Pere, Santa Caterina i la Ribera

City:

Barcelona
When

From 01/07/2022 to 02/09/2022
Phone number
Reservations:

Information:

Reservations:
E-mail
E-mail reserves:

reserveselbornccm@eicub.net
If you would like to make a correction related to this activity...let us know