Traductor de

: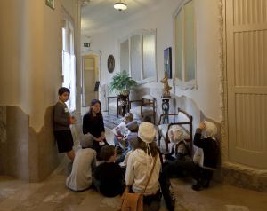 Per a infants i adolescents de 5 a 10 anys i les seves famílies.
Us convertireu en exploradors temeraris com l'Indiana Jones i descobrireu tots els racons de La Pedrera a través d'activitats pels diversos espais de l'edifici. Amb aquesta visita dinamitzada veureu de manera molt divertida i amena l´edifici de l'Antoni Gaudí. Us hi esperem, exploradors!
Schedule
Days
Hours
Preus
Observation

Dissabte i diumenge i
15 abril excepte 3 abril i 17 abril

a les 10:00 h

Entrada general de: 8.5 € (nens i adults)

Cal reserva prèvia.

Duració: 1h 30 minuts
Others
Occur on:

Organised by:

Coordinat per:
Address:

Carrer de Provença, 261*265

District:

Eixample

Neighborhood:

la Dreta de l'Eixample

City:

Barcelona
When

From 04/06/2022 to 26/06/2022
Phone number
Reservations:
E-mail
E-mail reserves:

reserves@lapedrera.com
You may also be interested in...
If you would like to make a correction related to this activity...let us know