Traductor de

: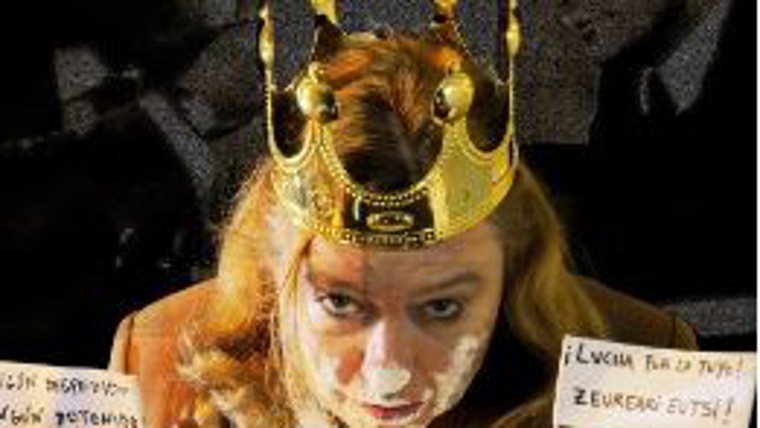 SINOPSI
Tragicòmica revisió del nostre període recent de la història d'Espanya:  la Transició .  Des de la ironia, l'absurd i també amb algun irremeiable tint tràgic , us parlarem de l'arribada del destapi, de les 5.000 amants del Rei, dels nervis de la ultradreta davant una joventut plena d'esperances i reivindicacions, del "ambientillo" en el bar del Congrés la tarda del cop d'estat. De qui va ser el carrer?
Espectacle multidisciplinari  (teatre, música i vídeo en directe, teatre d'ombres, estand up comedy…)
FITXA ARTÍSTICA
Actriu:  Bea Insa
Violonchelo:  Nerea Aizpurua
Projeccions i vídeo en directe:  Ángel Mirou
Disseny de llums i vestuari:  Consuelo Barrera Jofre
Espai escénic:  La Pacheca Collective
Ull extern:  María Ibarretxe
Creacció, Dramatúrgia i Direcció:  Bea Insa i  Ángel Mirou
Producció: Departamento de Cultura del Gobierno Vasco,  La Pacheca Collective
Colaboren: La Fundición Aretoa (Bilbao), San Agustín Kulturgunea (Durango)
Schedule
Days
Hours
Preus
Observation

Dimecres, dijous, divendres, dissabte i diumenge

a les 20.00 h

Entrada general: 18 €




(+ despeses de gestió)

Durada: 60 minuts




Dissabte 10 de desembre: col·loqui post-funció amb l'historiador Jordi Barra



Address:

C Riereta, 31

District:

Ciutat Vella

Neighborhood:

el Raval

City:

Barcelona
Where
When

From 07/12/2022 to 11/12/2022
Website
You may also be interested in...
If you would like to make a correction related to this activity...let us know