Traductor de

: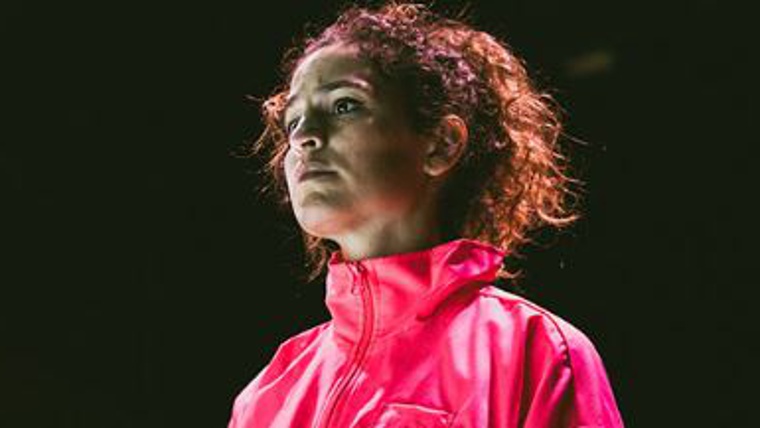 Sucia parla de l'abús posant el focus no sols en la pròpia experiència viscuda per la víctima, sinó en com rebem com a societat aquest tipus de situacions.
El nostre sistema ha convertit el Feminisme en una moda, un concepte a la mercè de les necessitats del nostre sistema socioeconòmic. Nosaltrxs no deixarem que succeeixi el mateix amb l'abús. En un moment en el qual els abusos van en augment, ens plantegem tractar aquest tema intentant buscar la manera de traçar un pont que ens ajudi a comprendre la complexitat d'un problema que ens travessa a totxs per igual. Entendrem l'abús no sols com a casos aïllats, sinó com l'estructura base en la qual el nostre sistema es fomenta.
Dramatúrgia i direcció: Bàrbara Mestanza
Repartiment: Bàrbara Mestanza i Pep Ambròs
Espai escènic i vestuari: Paola de Diego (AAPEE)
Il·luminació: Adrià Pinar
So, gràfic i vídeo-escènic: JUMI
Audiovisuals: Marc Pujolar
Ajudant de direcció: Jaume Viñas
Direcció d'actors i asist. dramatúrgia: Laia Alberch
Producció: Nacho Aldeguer, Rosel Murillo Lechuga i Mayte Barrera
Assistents de direcció i producció: Cristina Arias i Denisse Cao
Idea original de l'espai escènic: Anna Cornudella
Assessores: Lídia Casanovas (Assessorament consciència de gènere), Anna Planadevall (Psicòloga experta en violència masclista i abús), Núria Juanico (Periodista i investigadora sobre casos d'abús en el sector de les arts escèniques), Carla Vall (Advocada penalista) i Victoria Rosell (Cap de premsa)
Comunicació: CODEA
Cap de premsa: Josi Cortés
Teaser: Mikerl Arostegui
Fotografies: Luz Soria
Equip Teatre Akadèmia:
Direcció artística: Guido Torlonia
Gerència i Cap de producció: Meri Notario
Cap de comunicació i màrqueting: Míriam Font
Premsa i assistència a la direcció artística: Fernando Solla
Cap tècnic: Lluís Serra
Tècnic auxiliar: Victor Castro
Cap de sala: Núria Farrús
Gestió de públics: Rubén Salinas
Community Manager: Eladi Bonastre
Schedule
Days
Hours
Preus

Dimecres, dijous i divendres

a les 20.00 h

Entrada general: 22 €




(+ despeses de gestió)




10% de descompte per a socis Club TRESC, Carnet Jove, Carnet de Biblioteques, Club La Vanguardia, APGC, estudiants, majors de 64 anys i Targeta Rosa; 50% menors de 14 anys.

Preus especials per a grups

Dissabte

a les 17.00 h i
a les 20.00 h

Diumenge

a les 18.00 h
Others
Occur on:

Tickets sold at:
Address:

C Buenos Aires, 47*49

District:

Eixample

Neighborhood:

l'Antiga Esquerra de l'Eixample

City:

Barcelona
Where
When

From 17/05/2023 to 04/06/2023
Website
You may also be interested in...
If you would like to make a correction related to this activity...let us know