Traductor de

: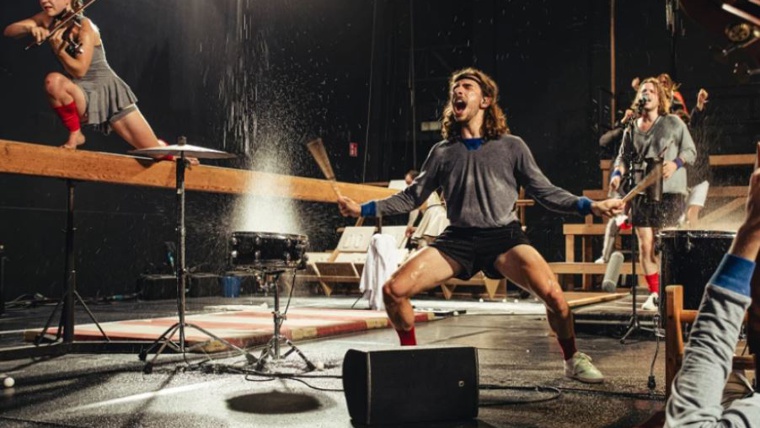 Histoire(s) du Théâtre IV
Idea i direcció: Miet Warlop NTGent & Irene Wool vzw
Torna Miet Warlop ( Mystery Magnet, After All Springville), ara amb un concurs musical. Un ritual col·lectivitzador per deixar el passat enrere amb esperança.
Dotze intèrprets participen en un concurs musical acompanyats d'una animadora i una comentarista. A partir d'una única cançó es formarà comunitat i ens engrescarem els uns als altres fins a l'extenuació per tal de tornar a tirar endavant? Un ritual de comiat, mort, esperança i resurrecció en el qual allò que és personal es fa col·lectiu i pot donar sentit a tota una societat, unida en la diversitat dels humans de totes les èpoques.
One Song és el resultat de la pregunta "Quina és la teva història com a creador de teatre?", que el centre de creació NTGent ha fet a l'artista. Una coproducció amb el Teatre Lliure que conforma el capítol IV de les seves Historie(s) du théâtre i s'estrena al festival d'Avinyó de 2022.
Miet Warlop és una de les artistes més avantguardistes del moment en les arts en viu. Actualment treballa també en una nova producció, Delirium, en col·laboració amb el Kunstenfestivaldesarts i el Kaaitheater, que s'estrenarà la primavera del 2024.
PERFORMERS: Simon Beeckaert, Elisabeth Klinck Willem Lenaerts, Milan Schudel, Melvin Slabbinck, Joppe Tanghe, Karin Tanghe i Wietse Tanghe
AMB: Stanislas Bruynseels, Rint Dens, Judith Engelen, Marius Lefever, Luka Mariën, Flora Van Canneyt i Jarne Van Loon
TEXT: Miet Warlop aconsellada per Jeroen Olyslaegers
DRAMATÚRGIA: Giacomo Bisordi
Schedule
Days
Hours
Preus
Observation

Dijous i divendres

a les 19.00 h

Entrada general de: 10 a 29 €




Jubilats targeta rosa / Abonats al TNC / Abonats al Mercat de les Flors / Tresc / Biblioteques / Subscriptors de la Vanguardia / Dia de l'espectador: 24.50 €




Persones amb diversitat funcional / famílies nombroses i monoparentals / aturats / menors de 30 anys: 14.50 €




Grups (A partir de 15 persones): 21.50 €




Menors de 14 anys: 10 €




***La venda per telèfon té un cost addicional per gestió: 3 €/entrada.

Atenció:

La música de l'espectacle sona a un volum molt alt, especialment de la fila 1 a la 6.

Es disposarà de taps amortidors a l'entrada de sala.
Others
Occur on:

Tickets sold at:
Address:

Pg Santa Madrona, 40*46

District:

Sants-Montjuïc

Neighborhood:

el Poble-sec

City:

Barcelona
When

From 06/04/2023 to 07/04/2023
Phone number
Ticket sale:

93 228 97 48 de dilluns a divendres de 10 a 20 h

Tel.:

Fax:
Website
Web venda d'entrades:
You may also be interested in...
If you would like to make a correction related to this activity...let us know