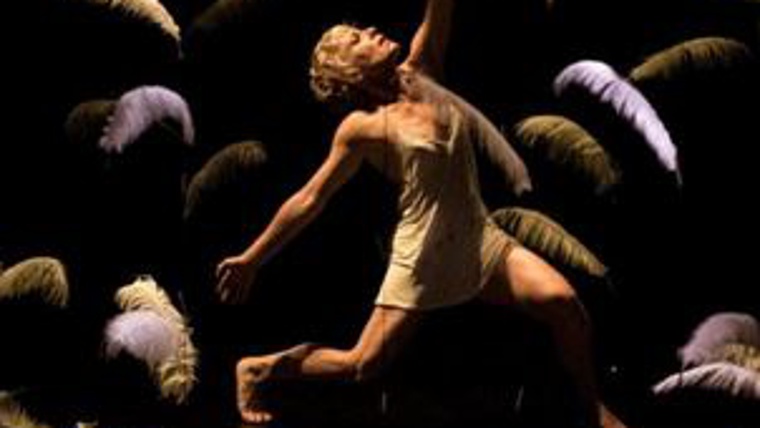 Shows. Sol Picó pays homage to the Paral·lel of one hundred years ago
Welcome to Paral·lel. Yes, there are feathers everywhere: not just in the main star's costumes but also suspended from nowhere, as part of a set that uses every modern resource to pay tribute to Paral·lel as it was a hundred years ago.
Sol Picó is the star of the show, sharing her records, adventures and experiences with the audience. Or perhaps these are merely her dreams; a projection of wishes that never came true.
The show, falling somewhere between tenderness and decadence, looks deep into the fears and feelings that assailed Paral·lel stars in the past but which are also part of our lives today: the fear of death, of loss, of degradation...
Credits:
Author, director and performer: Sol Picó
Texts: Heinrich Böll, Francisco Casavella and Cristina Morales
Adapted for the stage by: Cristina Morales
Musical director and composer: Aurora Bauzà and Pere Jou (Telemann Rec.)
Music performed by: Roger Julià / Pere Jou
To add to other dishes: Iniciativa Sexual Femenina
Set design: Joan Manrique
Special collaboration: Magic Lari
Traductor de

:
Schedule
Days
Hours
Preus
Observation

Dijous, divendres i dissabte

a les 20.00 h

Entrada general de: 10 a 20 €




(+ despeses de gestió)

Diumenge

a les 18.30 h
Others
Occur on:

Tickets sold at:
Sinopsi
Sigueu benvinguts i benvingudes al Paral·lel. Sí, aquí hi ha plomes per tot arreu: als vestits de la protagonista, però també suspeses del no-res, com a part d'una escenografia que utilitza tots els recursos del present per retre un homenatge al Paral·lel de fa cent anys.
Sol Picó és vedet que comparteix amb el públic els seus records, les seves vivències i experiències. O potser són els seus somnis, projecció d'uns desitjos que mai no es van arribar a fer realitat? Entre la tendresa i la decadència, l'espectacle s'endinsa en els sentiments i temors que acompanyaven els artistes del Paral·lel, però que també ens acompanyen a tots nosaltres avui: la por de la mort, la pèrdua, la degradació…
Fitxa artística:
Autoria, direcció i interpretació: Sol Picó
Textos: Heinrich Böll, Francisco Casavella i Cristina Morales
Adaptació dramatúrgica: Cristina Morales
Direcció i composició musical: Aurora Bauzà i Pere Jou (Telemann Rec.)
Interpretació musical: Roger Julià / Pere Jou
Acompanyament: Iniciativa Sexual Femenina
Escenografia: Joan Manrique
Disseny d'il·luminació: Sylvia Kuchinow
Vestuari: Joan Miquel Reig
So: Stéphane Carteaux
Vídeo: Albert Miret
Escultura d'escena: Nico Nubiola
Construcció artefacte de màgia: Jordi Pau i Gastón la Torre
Assistència de producció: Elena Espejo
Coach en moviment: Viviana Escalé
Assessorament titella: Andreu Martínez Costa
Col·laboració especial: Mag Lari
Assistència a la direcció: Carme Portaceli
Distribució: Palosanto Projects
Fotografia: Erin Bassa, Joan Carles Fotografia, May Zircus i Jordi Vidal
Producció: Pía Mazuela i Núria Aguiló Sol
Agraïments: Viviani Calvitti, Carmen Domingo, Roberto Fratini, Víctor Pavía, Maddish Falzoni i Nesa Vidaurrázaga
Address:

C Pere IV, 228*232

District:

Sant Martí

Neighborhood:

el Poblenou

City:

Barcelona
When

From 11/11/2021 to 28/11/2021
Phone number
Tel.:

932845312

Fax:

932197927
Website
Web venda d'entrades:

Web:
You may also be interested in...
If you would like to make a correction related to this activity...let us know