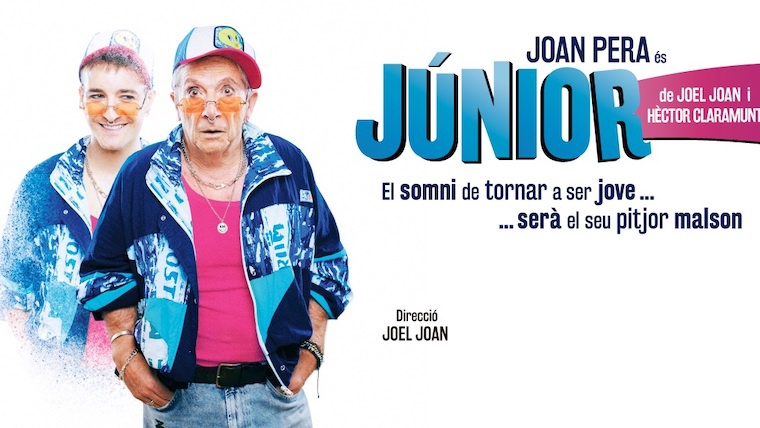 Comedy. A crazy story of generations, directed by Joel Joan and starring Joan Pera.
The former president, the Honourable Magí Folgueroles, has just turned 80 and isn't taking it very well. He feels young at heart and has no intention of retiring.
But Death tells him not to make plans for the future as he'll be back to take him away soon. Folgueroles moans: if he could be young again, now, with everything he's learnt...he'd get the whole country straight!
And in an instant, Death takes him at his word and grants his wish. He can live in a young body again for six months.
Artists
Author: Joel Joan and Hèctor Claramunt; Directed by: Joel Joan; Performers: Joan Pera, Fina Rius, Paula Vives, Oriol Casals, Francesc Cuéllar, Marta Codina, Clara Giralt.
Show in Catalan.
Duration: 1 hour 30 minutes.
Accessible performance: 11 March at 8 pm and 12 March at 5 pm
Traductor de

:
Schedule
Days
Hours
Preus
Observation

Dimecres i divendres excepte 7 abril

a les 20.00 h

Entrada general de: 21.75 a 33 €




(+ despeses de gestió)

Dijous i dissabte i
7 abril

a les 17.00 h i
a les 20.00 h

Diumenge, 10 abril i
1 maig

a les 17.00 h
Others
Occur on:

Tickets sold at:
L'expresident Molt Honorable Senyor Magí Folgueroles acaba de fer 80 anys i, certament, no ho porta molt bé. Tot i que ja no té gaire res a fer, ell se sent jove d'esperit i no té cap intenció de retirar-se. Ben al contrari, se sent tan fort i jove que s'està plantejant fer una triatló i pujar a l'Aconcagua, que ell encara té molta corda!
Tanmateix, poc després de bufar les espelmes rep una visita sorpresa i no gaire desitjada: la Mort en persona li comunica que no faci més plans de futur perquè aviat tornarà per endur-se'l. En Folgueroles se'n lamenta. Això és una injustícia i una pèrdua per a la humanitat. Que ara se l'enduguin, quan encara li queden tantes coses per fer, tanta experiència vital i saviesa per repartir... Oh, si pogués tornar a ser jove, ara, amb tot el que ha après... redreçaria el país sencer!
Dit i fet, la Mort li agafa la paraula i li concedeix el desig. Podrà tornar a viure en un cos jove durant una setmana, a veure com li va..., però amb el que l'expresident Molt Honorable Senyor Magí Folgueroles no comptava és amb el sentit de l'humor una mica particular que té la Mort. Sí, passarà a ocupar el cos d'un jove, sí, el d'un pintor anarquista i llibertí que, a més, resulta que és la parella o company o vèrtex (o alguna cosa així) de l'Alícia, la filla d'en Folgueroles, amb qui fa anys que no es parla. No cal ni dir que la joventut d'avui dia no és el que era i aquesta setmana se li farà molt llarga.
Autoria: Joel Joan i Hèctor Claramunt
Direcció: Joel Joan
Intèrprets: Joan Pera, Fina Rius, Paula Vives, Oriol Casals, Francesc Cuéllar, Marta Codina i Clara Giralt
Address:

Av Paral.lel, 91

District:

Sants-Montjuïc

Neighborhood:

el Poble-sec

City:

Barcelona
Where
When

From 20/01/2023 to 07/05/2023
Website
Web venda d'entrades:
You may also be interested in...
If you would like to make a correction related to this activity...let us know