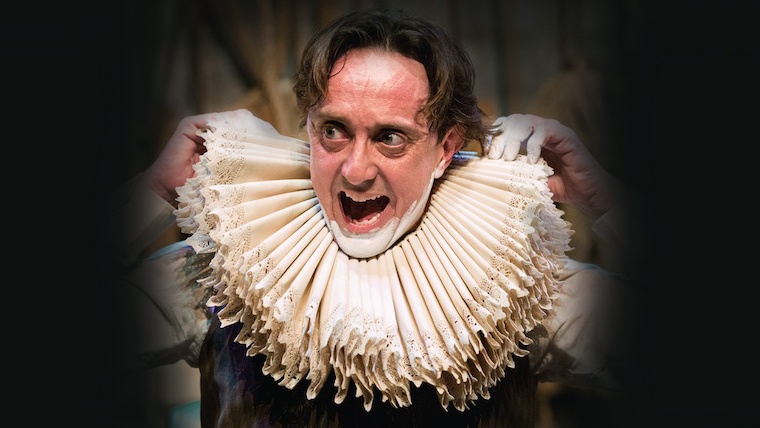 Comedy drama. A free adaptation of Shakespeare's great work to talk about theatre, and most of all, the human condition.
An actor takes on the challenge of performing Ricard III, the ruthless monarch in Shakespeare's tragedy. He has always had supporting roles and feels he deserves this opportunity. As he constructs the character, the affinities between the actor and the English monarch start to come to light. They're both clever and ambitious. As their life stories weave together, the relationship between the actor, the character and the spectator becomes ever closer.
Història d'un senglar (o alguna cosa de Ricard) revolves around the mechanisms of contemporary power, desire and resent, offering a reflection on the limits of human ambition.
Artistic team
Written and directed by: Gabriel Calderón; Translation: Joan Sellent; Performed by: Joan Carreras.
Show in Catalan.
Duration: 70 minutes.
Schedule
Days
Hours
Preus
Observation

Dimarts, dimecres, dijous, divendres i dissabte excepte 26 setembre

a les 20.00 h

Entrada general: 29 €




Entrada anticipada: 21,75 €

(+ despeses de gestió)

Diumenge i
25 setembre

a les 17.30 h
Others
Occur on:

Tickets sold at:
Sinopsi:
Gabriel Calderón escriu i dirigeix aquest monòleg protagonitzat per Joan Carreras.
Un actor s'enfronta al repte d'interpretar Ricard III, el monarca despietat de la tragèdia de William Shakespeare. Porta tota la vida fent papers secundaris i pensa que mereix aquesta oportunitat. Tanmateix, considera que la resta de l'elenc no està a la seva altura i no li agrada res del que li proposa el director. Durant la construcció del personatge, les afinitats entre l'actor i el monarca anglès comencen a aflorar. Tots dos són ambiciosos i intel·ligents. Com Ricard III, el Joan no es conforma amb poc, té ànsia de poder i no està disposat a perdre el temps amb actors tous, hipersensibles o mediocres. A mesura que s'entrellacen les seves històries de vida, la relació entre l'actor, el personatge i l'espectador esdevé cada vegada més estreta.
Història d'un senglar (o alguna cosa de Ricard) gira al voltant dels mecanismes de poder contemporanis, el desig i el ressentiment, i proposa una reflexió sobre els límits de l'ambició humana.
Fitxa artística:
Text i direcció: Gabriel Calderón
Traducció: Joan Sellent
Intèrprets: Joan Carreras
Escenografia: Laura Clos
Vestuari: Sergi Corbera
Il·luminació: Ganecha Gil
Espai sonor: Ramón Ciércoles
Direcció de producció: Josep Domènech
Producció executiva: Luz Ferrero
Ajudant de direcció: Olivia Basora
Ajudant d'escenografia en pràctiques: Marta Calderón
Ajudant de vestuari i caracterització: Núria Llunell
Regidoria: Roser Puigdevall
Cap tècnic: Pere Capell
Tècnic en funcions: Àngel Puertas
Cap tècnic del teatre: Iker Gabaldón
Màrqueting i comunicació: La Villarroel
Fotografia: Felipe Mena
Disseny gràfic: Santi&Kco
Agraïments: Emili Agustí
Amb el suport de l'Institut Ramon Llull
Distribució i comunicació: Bitò
Producció: Temporada Alta 2020 i Grec 2020 Festival de Barcelona
Address:

Villarroel, 87

District:

Eixample

Neighborhood:

l'Antiga Esquerra de l'Eixample

City:

Barcelona
Where
When

From 01/09/2023 to 01/10/2023
Website
Web venda d'entrades:
If you would like to make a correction related to this activity...let us know