Traductor de

: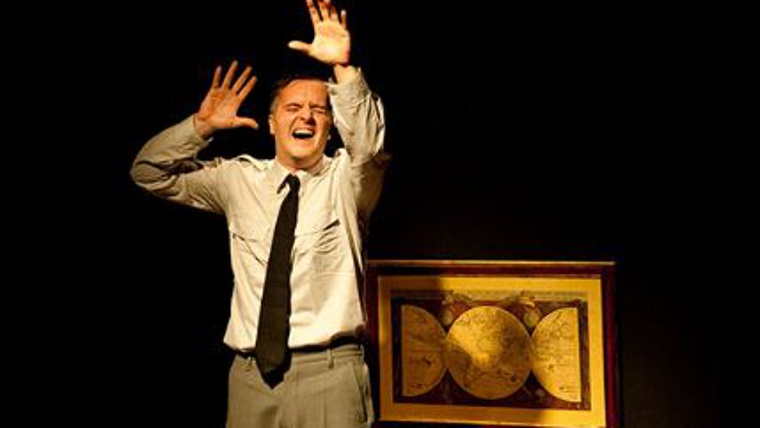 A primera vista,  Himmelweg ( Camino del cielo) és una obra de teatre històric. En realitat és -vol ser- una obra sobre l'actualitat. Parla d'un home que s'assembla a gairebé tota la gent que coneixem: té una sincera voluntat d'ajudar als altres; vol ser solidari; l'espanta el dolor aliè. No obstant això no és suficientment fort com per desconfiar del que li diuen i li ensenyen. No és suficientment fort per veure-hi amb els seus propis ulls i anomenar les coses amb les seves pròpies paraules. Es conforma amb les imatges que els altres li donen. I amb les paraules que els altres li diuen. "Camino del cielo", per exemple. No és suficientment fort per descobrir que "Camino del cielo" pot ser el nom de l'infern. No és suficientment fort per veure l'infern que s'estén sota els seus peus. Un delegat de la Creu Roja a qui s'encarrega inspeccionar un camp de concentració i davant del qual se li presenta una mentida acceptable.
Aquest personatge és el punt de partida. Però seguint els seus passos en aquest viatge per un infern que no ho sembla, ens trobem a altres personatges no menys actuals, no menys propers.
​​Premi BBVA 2016, millor actor Raimon Molins; Finalista BBVA 2016, millor espectacle; Certamen Nacional de Teatro Garnacha de La Rioja 2016, millor actor Raimon Molins; Espectacle recomanat per La Red de Teatros.
Fitxa artística
Autor: Juan Mayorga
Direcció: Raimon Molins
Repartiment: Cristina Plazas, Raimon Molins, Guillem Gefaell i Sònia Gardés
Creació i direcció digital: Joan Rodón
Disseny i construcció d'escenografia: Kike Blanco
Disseny de titelles: Sònia Gardés
Disseny de vestuari: Glòria Viguer
Espai sonor: Raimon Molins
Disseny de so i programació: Efrén Bellostes
Cap de producció: Judit Ferrer
Producció executiva: Anna Maruny
Equip Teatre Akadèmia:
Direcció artística: Guido Torlonia
Gerència i Cap de producció: Meri Notario
Cap de comunicació i màrqueting: Míriam Font
Premsa i assistència a la direcció artística: Fernando Solla
Cap tècnic: Lluís Serra
Cap de sala: Núria Farrús
Gestió de públics: Rubén Salinas
Schedule
Days
Hours
Preus
Observation

Dimecres, dijous, divendres i dissabte, 25 desembre,
26 desembre i
1 gener excepte 24 desembre, 31 desembre i 5 gener

a les 20.00 h

Entrada general: 22 €




(+ despeses de gestió)




10% de descompte per a socis Club TRESC, Carnet Jove, Carnet de Biblioteques, Club La Vanguardia, APGC, estudiants, majors de 64 anys i Targeta Rosa; 50% menors de 14 anys.

Preus especials per a grups

Diumenge excepte 25 desembre i 1 gener

a les 18.00 h
Others
Occur on:

Tickets sold at:
Address:

C Buenos Aires, 47*49

District:

Eixample

Neighborhood:

l'Antiga Esquerra de l'Eixample

City:

Barcelona
Where
When

From 21/12/2022 to 15/01/2023
Website
You may also be interested in...
If you would like to make a correction related to this activity...let us know