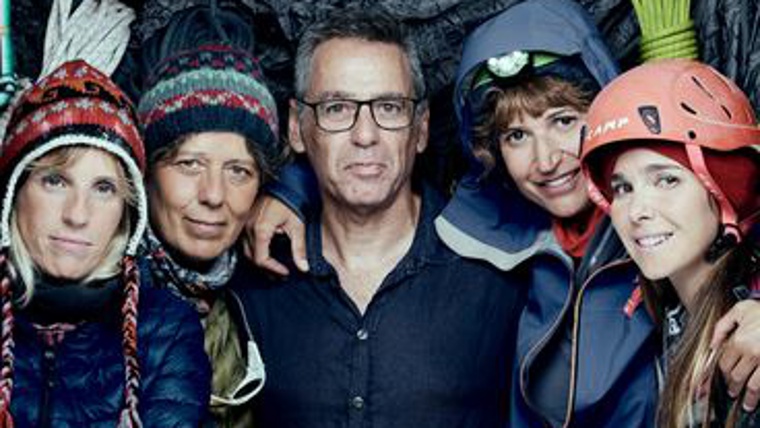 Comedy. Jordi Galceran ('El Mètode Grönholm') premieres his new work, directed by Sergi Belbel and featuring a top-class cast.
Four women climbers (Sílvia Bel, Míriam Iscla, Sara Espígul and Natalia Sánchez) are half way up Fitzroy, a mountain in the icy south of Patagonia, between Argentina and Chile, one of the most complex climbs in the world, never before conquered by a group of women.
Bad weather has forced them to stop, and while they wait for conditions to improve, sheltering by a rocky outcrop, some unexpected issues arise that have them in quandary about whether to keep going or turn back.
Traductor de

:
Schedule
Days
Hours
Preus

Dimecres, dijous i divendres i
4 febrer

a les 20.00 h

Entrada general de: 23.8 a 33 €

(+ despeses de gestió)

Dissabte excepte 4 febrer

a les 17.00 h i
a les 20.00 h

Diumenge excepte 5 febrer, 12 febrer, 19 febrer i 26 febrer

a les 16.30 h

5 febrer,
12 febrer,
19 febrer i
26 febrer

a les 17.00 h
FITZROY és la nova comèdia de Jordi Galceran (El mètode Gronholm) dirigida per Sergi Belbel i protagonitzada per quatre actrius de primer nivell; Sílvia Bel, Míriam Iscla, Sara Espígul i Natalia Sánchez.
Quatre escaladores estan a mitja ascensió del Fitzroy, una muntanya situada al camp de gel de la Patagònia sud, entre Argentina i Xile, una de les vies d'escalada més complicades del món i mai assolida per una cordada femenina. El mal temps les ha fet aturar i, mentre esperen que les condicions millorin, arrecerades en un sortint de la roca, sorgeixen problemes inesperats que les fan dubtar de si tirar endavant l'ascensió o rendir-se. Continuar significaria assumir riscos que no havien previst i que poden posar en perill les seves vides, rendir-se seria renunciar a la possibilitat d'assolir una fita que potser no podran repetir mai.
Address:

Pl Urquinaona, 9

District:

Ciutat Vella

Neighborhood:

Sant Pere, Santa Caterina i la Ribera

City:

Barcelona
Where
When

From 02/02/2023 to 23/04/2023
Website
Web venda d'entrades:
You may also be interested in...
If you would like to make a correction related to this activity...let us know