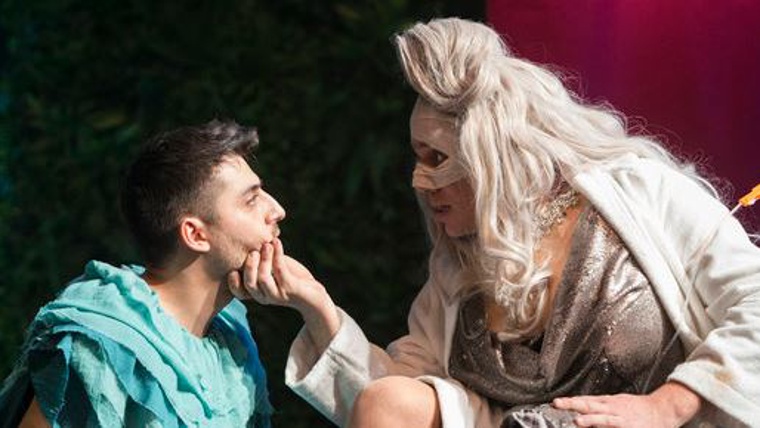 Comedy. A satire based on the work by Aristophanes and focusing on the boom in neo-liberal populism and the emotional mechanisms that drive it.
Els Ocells (The Birds) by Aristophanes was first performed in 414 BC. The comedy tells the story of two well-off Athenians who, fed up with public interference in their private affairs, abandon the human world and convince the birds to create a new civilisation.
La Calòrica revisit Els Ocells to study the emotional mechanisms that drive neo-liberal populism and ponder the reasons behind its international boom. What have we done to halt populism? To what extent are we impermeable to its powerful slogans? What real democracy remains of western democracies?
Artists
Written by: Joan Yago; Director: Israel Solà; Performers: Xavi Francés, Aitor Galisteo-Rocher, Esther López and Marc Rius.
Show in Catalan.
Duration: 90 minutes.
Traductor de

:
Schedule
Days
Hours
Preus
Observation

Dimarts i dimecres, 27 març i
17 abril

a les 20.00 h

Entrada general de: 11.95 a 26.95 €

(+ despeses de gestió)
El jove empresari Pisteter i la seva companya Evèlpides no poden tornar a casa. Tampoc se'ls acudeix cap altre lloc on puguin anar a viure la vida còmoda, relaxada i lliure d'impostes que ells anhelen. La trobada accidental amb un innocent puput enmig del bosc els portarà a plantejar-se un canvi d'estratègia: i si renunciessin a la seva condició humana i es convertissin en ocells? O encara més: i si convencessin les aus del món per crear una nova societat basada en els principis fonamentals d'Individu, Propietat i Competència?
L'empresa no serà senzilla. Caldrà convèncer les masses amb un relat sòlid i apassionat, caldrà negociar amb vells poders que habiten el món des del principi dels temps - i que potser no estan disposats a que res canviï-, caldrà combatre amb mà de ferro la dissidència i, fins i tot, tenir una conversa cara a cara amb la Democràcia i el Capitalisme.
Dramatúrgia Joan Yago
Direcció Israel Solà
Intèrprets Xavi Francés, Aitor Galisteo-Rocher, Esther López i Marc Rius
Escenografia, vestuari i il·luminació Albert Pascual
Espai Sonor Guillem Rodríguez amb la col·laboració d'Arnau Vallvé
Caracterització Anna Rosillo
Construcció de l'escenografia La Calòrica i La Forja del Vallès
Confecció del vestuari Albert Pascual
Llum LED de l'escenografia L&D Lights
Maquinista Pere Sànchez
Alumna de l'IT en pràctiques d'escenografia Alejandra Lorenzo Iglesias
Veus en off Queralt Casasayas, Arnau Puig, Andrea Ros, Vanessa Segura, Júlia Truyol i Pau Vinyals
Fotografies de l'espectacle Anna Fàbrega
Enregistrament vídeo de l'espectacle Moosemallow Crew
Producció Executiva Júlia Truyol
Una producció de Cia. La Calòrica amb la col·laboració del Festival Temporada Alta i el suport de la Sala Beckett i el Departament de Cultura de la Generalitat de Catalunya.
Agraïments Pau Aulí, Chelo García, Montserrat Nogué, Josep Orfila, Clara de Ramon, Teo Solà, Teatre Kaddish, La Brutal
Address:

la Rambla, 115

District:

Ciutat Vella

Neighborhood:

el Raval

City:

Barcelona
Where
When

From 14/03/2023 to 19/04/2023
Website
You may also be interested in...
If you would like to make a correction related to this activity...let us know