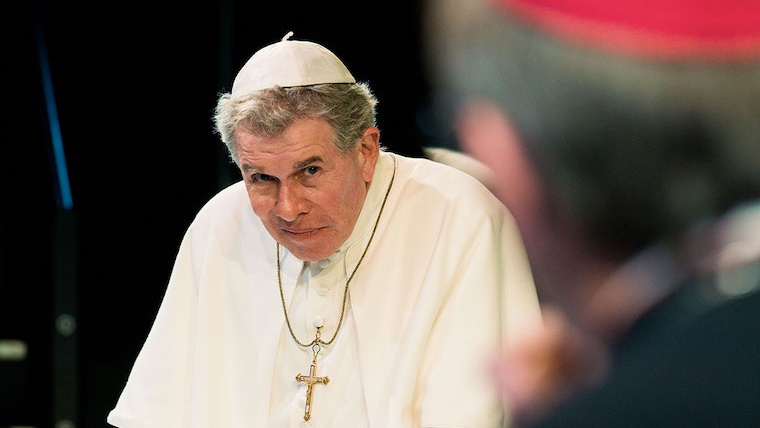 Theatre. A Catalan-language adaptation of the play of the same name by the playwright and scriptwriter Anthony McCarten.
Lluís Soler and Xavier Boada play two apparently opposite popes: the traditionalist and ultra-conservative intellectual Benedict XVI and the radical and extrovert reformist, Francis. Both perfectly represent the symbolic purpose of the pontificate: deciding what is sin and what is permissible.
The New Zealand-based playwright and script writer Anthony McCarten's El papa / The Pope tells the story of the meeting between the two great contemporary figures, known by everyone, this time from an intimate context.
The conflict: they must both choose between resigning and withdrawing to a life of prayer and meditation or occupying a such a determining position. Between following the institution's pre-established rules or their conscience.
Artists
Author: Anthony McCarten; Translator: Jaume Coll Mariné; Direction: Guido Torlonia; Cast: Lluís Soler, Xavier Boada, Núria Farrús, Míriam Lladó and Marc Tresserras
Show in Catalan.
Duration: 1 hour 40 minutes.
Traductor de

:
Schedule
Days
Hours
Preus

Dimecres, dijous, divendres i dissabte

a les 20.00 h

Entrada general: 22 €




(+ despeses de gestió)




10% descompte per:

socis Club TRESC, Carnet Jove, Carnet de Biblioteques, Club La Vanguardia, APGC, estudiants, majors de 64 anys i Targeta Rosa.

50% menors de 14 anys.

Preus especials per a grups

Diumenge

a les 18.00 h
Others
Occur on:

Tickets sold at:
Lluís Soler i Xavier Boada es converteixen en dos pontífexs aparentment oposats com són Benet XVI, l'intel·lectual tradicionalista i ultraconservador, i Francesc, el reformista radical i extravertit. Ambdós representen a la perfecció el destí simbòlic del pontificat: decidir què és pecat i què és permissible.
El dramaturg i guionista neozelandès Anthony McCarten explica la història de la trobada entre dues grans figures contemporànies, conegudes per tothom, aquesta vegada des d'un context íntim.
El conflicte: tots dos hauran de triar entre renunciar al seu càrrec i retirar-se a una vida d'oració i meditació o ocupar una posició tan determinant. Entre seguir les normes preestablertes per la institució o les de la mateixa consciència.
Fitxa artística
Autor: Anthony McCarten
Traducció: Jaume Coll Mariné
Direcció: Guido Torlonia
Repartiment: Lluís Soler, Xavier Boada, Núria Farrús, Míriam Lladó i Marc Tresserras
Espai escènic: Paula Bosch
Vídeo: Joan Rodón (dLux.pro)
Il·luminació: Lluís Serra
Vestuari: Míriam Compte
Espai sonor: Ricardo González Yanel
Ajudant de direcció: Iban Beltran
Fotografies: Felipe Mena
Equip Teatre Akadèmia:
Direcció artística: Guido Torlonia
Gerència i Cap de producció: Meri Notario
Cap de comunicació i màrqueting: Míriam Font
Premsa i assistència a la direcció artística: Fernando Solla
Cap tècnic: Lluís Serra
Cap de sala: Núria Farrús
Gestió de públics: Rubén Salinas
Ajudant de producció: Maria Serra
Una producció del Teatre Akadèmia.
Address:

C Buenos Aires, 47*49

District:

Eixample

Neighborhood:

l'Antiga Esquerra de l'Eixample

City:

Barcelona
Where
When

From 02/11/2022 to 04/12/2022
Website
You may also be interested in...
If you would like to make a correction related to this activity...let us know