Traductor de

: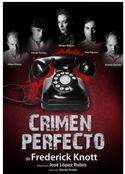 D'aquest text de Frederick Knoot, Alfred Hitchock va crear la seva obra mestra Crimen Perfecto.
Un fred i calculador tenista retirat, planeja assassinar a seva bella i rica esposa, perquè desitja heretar la seva gran fortuna i de pas venjar-se d'una infidelitat que ha comès ella amb un conegut escriptor. Per a dur a terme el seu pla, fa xantatge a un antic company d'universitat el convenç per a , en la seva absència, entri a la casa i estranguli a la seva dona... Ho aconseguirà? Deixarà caps per lligar? No es perdin aquest thriller, del qual en el seu moment el genial Alfred Hitchcock va fer una obra d´art....
Miriam Marcet
Toni Figuera
Ramón Garrido
Albert Pueyo / Jordi Gracia
Carles Cruces
Vestuari: Moisés Prats y Laura Taus
Escenografia: Marina Lozano y Raquel Gonta
Fotògrafa cartell: Sandra Mateo
Schedule
Days
Hours
Preus
Observation

Dissabte

a les 21.30 h

Entrada general de: 22 €
Entrada anticipada: 16.50 € (+ despeses de gestió)
Others
Occur on:

Tickets sold at:
Address:

C Jonqueres, 15

District:

Ciutat Vella

Neighborhood:

Sant Pere, Santa Caterina i la Ribera

City:

Barcelona
Where
When

From 17/09/2022 to 29/10/2022
Website
Web venda d'entrades:
You may also be interested in...
If you would like to make a correction related to this activity...let us know