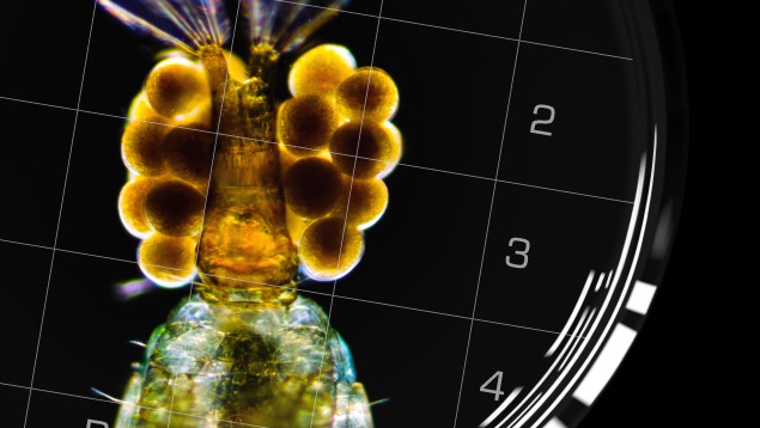 Experimentation. An activity which stimulates interest in what we can't see through experimentation.
CosmoCaixa is launching a new permanent space for visitors to become immersed in the invisible world of the human eye. Micràrium is a pioneering space in Spain and one of few of its kind in Europe, offering a chance to explore the microscopic world through experimentation.
Visitors become observers and protagonists. In fact, besides being able to engage with the mineral, vegetal and animal worlds, visitors to Micràrium can observe themselves with magnifying instruments: hairs, skin and even clothing are objects to be observed and remarked on.
The goal is to strengthen the idea that the microscopic world is not alien to us, that its forms part of our reality, even though we can't see it.
The activity starts with an immersive section with a semi-circular screen and an all-around sound system that prompts us to see the world from a completely new perspective.
After that, the experimentation activity moves on to various spaces within Micràrium where visitors can observe tiny displays through microscopes, magnifying glasses and other items, getting the chance to take their own digital photographs.
Traductor de

:
Schedule
Days
Hours
Preus
Observation

Dissabte i diumenge

a les 11.00 h,
a les 13.00 h i
a les 16.00 h

Entrada general: 6 €




Els menors de 14 anys han d'anar acompanyats d'un adult per visitar CosmoCaixa. Tots els assistents n'han d'adquirir una entrada, adults i infants.




Els menors de 3 anys tenen l'entrada gratuïta però n'han d'adquirir el tiquet. 

Activitat de 90 minuts de durada
CosmoCaixa estrena un nou espai permanent en què et podràs submergir en un món invisible a l'ull humà. Endinsa't en Micràrium!En aquest espai pioner podràs explorar el món microscòpic. Controla diversos instruments de magnificació, prepara les teves pròpies mostres i emporta't les fotos!
Des que es va inventar, el microscopi va revolucionar totalment el món de la investigació científica. Però, a més, va influir en el món de l'educació i la divulgació científica, probablement com cap altre instrument científic ho ha fet mai, tret potser del telescopi. Malgrat això, la major part de la ciutadania no ha tingut l'oportunitat d'observar el món des de les lents d'un microscopi o altres sistemes de magnificació. Una gran part del món que ens envolta ens és invisible als ulls.
En aquest marc, per mitjà del nou Micràrium de CosmoCaixa es vol estimular l'interès pel que no es veu a través de l'experimentació dins d'un entorn museogràficament atractiu en què l'usuari també n'és el protagonista.
Plegats ens submergim en les entranyes de tota mena de materials, naturals i artificials, orgànics i inorgànics: sorra de la platja, minerals, micrometeorits, protozous, llevats, cianobacteris, larves, plomes, microplàstics i fins i tot obres d'art!L'espai permanent Micràrium és pioner a Espanya i un dels pocs a Europa que permet explorar el món microscòpic a través de l'experimentació. El visitant és alhora observador i protagonista; de fet, a més de preparacions del món mineral, vegetal i animal, al Micràrium els visitants es poden observar a ells mateixos amb els instruments de magnificació: pèls, pell o fins i tot la roba són objectes que es poden veure i comentar. L'objectiu és reforçar la idea que el món microscòpic no ens és aliè, que forma part de la nostra realitat, encara que no el puguem veure.
L'activitat a Micràrium comença en un espai immersiu on el visitant s'endinsa en un món microscòpic. Un espai immersiu amb una pantalla semicircular i un so envolupant ens transmet la sensació d'encongir-nos fins a veure el món des d'una perspectiva completament nova. Després, l'activitat d'experimentació es trasllada als quatre espais de Micràrium que reprodueixen les diverses àrees de contingut de la sala Univers: Kósmos, Evolució i Fronteres. En aquests espais es poden observar mostres diminutes a través de microscopis, lupes o altres artefactes, i els visitants podran capturar les seves pròpies fotografies digitals.
Es recomana arribar cinc minuts abans de l'inici de l'activitat. Un cop començada, no es podrà accedir a Micràrium.
Address:

Carrer d'Isaac Newton, 26

District:

Sarrià-Sant Gervasi

Neighborhood:

Sant Gervasi - la Bonanova

City:

Barcelona
Where
When

From 10/09/2022 to 18/12/2022
Website
Web venda d'entrades:
You may also be interested in...
If you would like to make a correction related to this activity...let us know