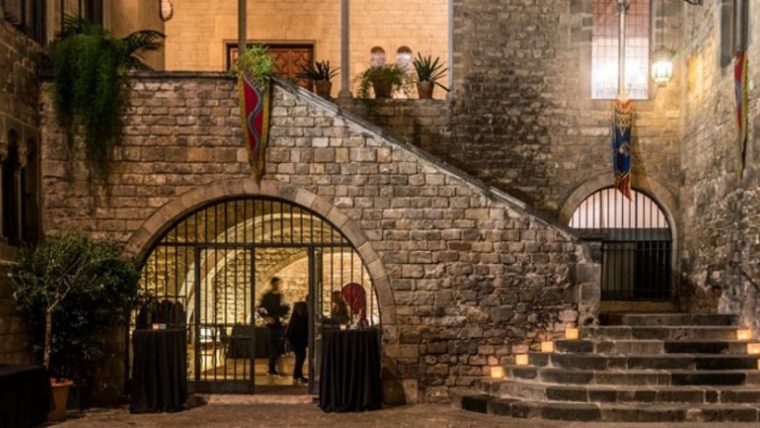 Shows. A supper with guided tour and medieval show in a 14th century building.
Experience a medieval night at the Palau Requesens with battling knights, belly dancers and fire juggling in the palace's courtyard.
The evening starts with a tour of the Palau Requesens (14th century), in the company of historians explaining the fascinating life of Isabel de Requesens, the Vicereine of Naples, and everything to know about this building. Visitors will also be given access, for the first time, to the watchtower and terrace, offering views of the entire Gòtic neighbourhood.
A medieval-inspired supper will be served at El Tinellet, accompanied with music from the period. Finally, the show will recreate a medieval night just like one that Isabel de Requesens herself would have offered her most illustrious guests.
Traductor de

:
Schedule
Days
Hours
Preus
Observation

dissabtes
excepte 8 d'agost
15 d'agost
22 d'agost
29 d'agost
17 d'octubre
26 de desembre

de 20:00 h a 23:00 h

Entrada general de: 73 a 119 €
(adults)

Infantil: 36.50 €
(menors de 12 anys)

Menús:
- menú vegetarià
- menú de la Virreina
- menú intoleràncies i
hàbits alimentàris

Menú Palau Requesens: 98.50 €

Menú Gourmet: 119 €

Consulteu disponiblitat
de dies a la web.
L'espectacle recrearà una nit medieval com la que la pròpia Isabel de Requesens (s.XIII) hagués ofert als seus convidats més il·lustres. L´esdeveniment es celebrarà tots els dissabtes fins el desembre de 2021.
La vetllada començarà a les 19:30h amb una copa de cava de benvinguda. A continuació, es realitzarà una visita al Palau en la que els visitants podran conèixer la fascinant vida d´Isabel de Requesens, Virreina de Nàpols. A més, per primera vegada, s´inclourà un recorregut per la torre de guaita i la terrassa, des d´on es pot contemplar tot el barri gòtic.
HORARIS DE L'ACTIVITAT20:00h Benvinguda amb copa de cava20:00h Visita guiada al Palau Requesens20:50h Lluita d'espases al pati principal21:00h Sopar de la Virreina al saló del Tinellet22:45h Espectacle de foc i malabars23:00h Fi de la vetllada
Address:

C Bisbe Caçador, 3

District:

Ciutat Vella

Neighborhood:

el Barri Gòtic

City:

Barcelona
Where
When

Permanent event
Phone number
Reservations:

Reservations:

Reservations:

Reservations:
Website
E-mail
E-mail reserves:

reservas@sternalia.com

E-mail reserves:

cesarblasco@sternalia.com

E-mail reserves:

reservas@sternalia.com

E-mail reserves:

cesarblasco@sternalia.com
You may also be interested in...
If you would like to make a correction related to this activity...let us know