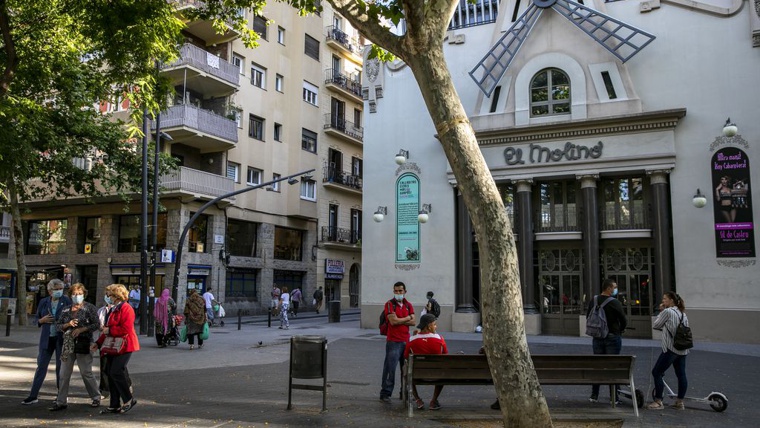 Route. An urban route around 100 years of LGBTI+ resistance.
Get ready for a city route following the footsteps left by a hundred years of resistance from LGBTI+ people in Barcelona. We'll be starting the route by discovering the first socialisation spaces which appeared at the start of the 20th century. After that we'll become absorbed in the 20s and 30s to get an idea of the controversies and meeting points for the LGBTI+ cause and working class organisations. In addition, we'll be remembering Francoist repression and the resistance, and talking about the early movements and organisations which started life in the 70s. Later on we'll be looking at the marks left on the city by HIV and AIDS in the 80s, and reflecting on the re-emergence of a broader movement at the end of the 90s and into the millennium, bringing us to the present and bearing witness to the greater conquest of rights and the emergence of new identities.
The route will enable us to reflect on the memory of it transformational potential, and to review the challenges for the struggle for LGBTI+ rights which are still current in the 21st century.
Face-to-face activity requiring prior registration from inscripcions@centrelgtbibcn.org
Start: Barcelona City Wall (junction between Av. Paral·lel and Portal de Santa Madrona)
End: Barcelona LGBTI Centre
Limited places
Traductor de

:
Schedule
Days
Hours
Preus
Observation

16 octubre,
13 novembre,
18 desembre i
29 gener

d'11.00 h a 13.15 h

Entrada Gratuïta
Prepara't per fer un recorregut urbà per les petjades que han deixat 100 anys de resistències de les persones LGTBI+ a Barcelona.
Inici: Muralla de Barcelona (Cruïlla de l'Avinguda del Paral·lel amb Portal de Santa Madrona)
Final: Centre LGTBI de Barcelona
Address:

Carrer del Comte Borrell, 22

District:

Eixample

Neighborhood:

Sant Antoni

City:

Barcelona
When

From 16/10/2021 to 29/01/2022
Phone number
Tel.:

93 880 51 11
E-mail
E-mail inscripcions:

inscripcions@centrelgtbibcn.org
You may also be interested in...
If you would like to make a correction related to this activity...let us know