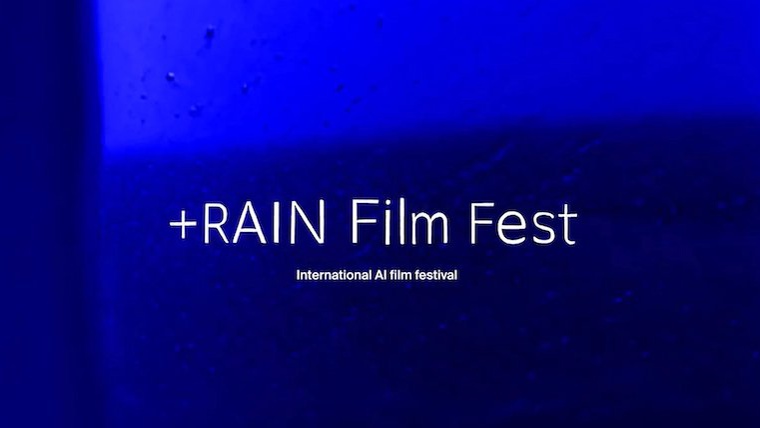 Artificial intelligence. Europe's first festival showcasing films generated using artificial intelligence (AI).
+RAIN explores contemporary cinematic storytelling using AI-based technologies with all their aesthetic, ethical and political potential and implications.
A day of lectures and debates, screenings and performative musical and audiovisual works.
There are three sections that are open to all; admission is free, but prior booking is required.
+ RAIN RESEARCH: 9 am to 1.45 pm: A day focused on international research on the future of AI in the creation of digital content, and its impact on the media sector.
+ RAIN FEST: 4 pm to 8 pm: International AI film Festival, with the screening of the selection of films presented as part of the international call, followed by a colloquium.
+RAIN LIVE: 8 pm to 10.45 pm: A space to enjoy musical and audiovisual works based on processes of research and experimentation, and to explore the aesthetic and narrative possibilities opened up by the creation of AI models, and live coding.
You can check out the full programme here.
Schedule
| | Days | Hours | Preus | Observation |
| --- | --- | --- | --- | --- |
| | Dimecres | de 09.00 h a 22.30 h | Entrada Gratuïta | |
Others
+RAIN Film Fest és el primer festival a Europa de films generats amb intel·ligència artificial (AI).+RAIN explora la narració fílmica contemporània amb tecnologies basades en AI i les seves possibilitats i implicacions estètiques, ètiques i polítiques. Una jornada de ponències i debats, projeccions i propostes de caràcter musical i audiovisual performatives.
Tres seccions obertes a tothom, d'entrada lliure, prèvia inscripció.
Es podrà fer la inscripció per separat o a les tres.
+RAIN RESEARCH: 09:00 a 13:45 h. Jornada internacional de recerca sobre el futur de la AI en la creació de continguts digitals i el seu impacte al sector dels mitjans. Es tractaran aspectes com les possibilitats narratives de la creació amb AI, el seu ús ètic, la creativitat o la redefinició del concepte d'autor i autora.
+RAIN FEST: 16:00 a 20:00 h. Festival Internacional de pel·lícules AI on es mostrarà la selecció dels films presentats a la convocatòria internacional amb un col·loqui posterior. Es projectará també una mostra de pel·lícules del Runway AI Film Festival i una retrospectiva de films creats amb AI dels darrers anys.
+RAIN LIVE: 20:00 a 22:30 h. Un espai per gaudir d'obres musicals i audiovisuals que parteixen de processos de recerca i d'experimentació i explorar les possibilitats estètiques i narratives de la creació de models d'AI i live coding.
Consulta el programa complet: https://www.upf.edu/web/rainfilmfest/rain
Campus Poblenou - UPF
Address:

Carrer de Roc Boronat, 135X - 143X

District:

Sant Martí

Neighborhood:

el Parc i la Llacuna del Poblenou

City:

Barcelona
Where

Campus Poblenou - UPF
When

14/06/2023
Website
Web inscripcions:

Web:
You may also be interested in...
If you would like to make a correction related to this activity...let us know