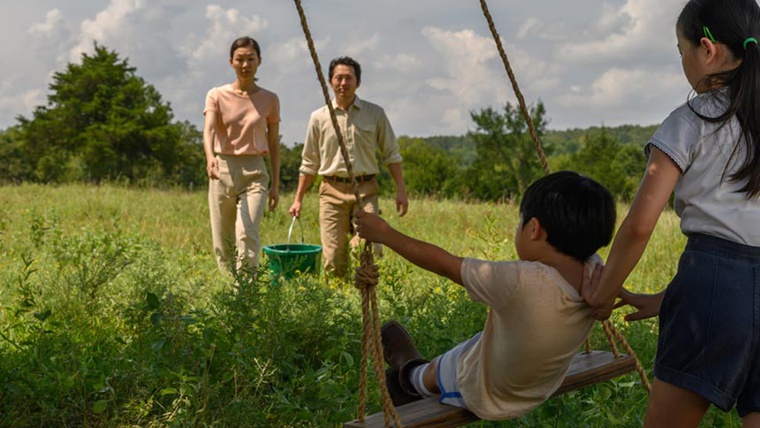 Films. Enjoy a new film at the CaixaForum every Monday and Thursday this summer.
This film cycle will offer a selection of feature films with impressive and exciting stories from several cultures.
A journey through the big screen, from South Korea and Japan to the UK, not to mention other countries as well.
Screenings:
'Madres Verdaderas' / 'True Mothers'. Naomi Kawase, 2020, Japan. Original version with subtitles
27 June and 22 August
A couple having suffered for some time because they are unable to conceive decide to adopt a child. Five years later the child's biological mother, now a young adult, turns up at the couple's home demanding her son's return.
'Minari. Historia de mi Familia'. Lee Isaac Chung, 2020, South Korea and USA. Original version with subtitles
4 July and 11 August
A humble family originally from Korea embark on a new life in rural Arkansas. They open a farm, in search of the American dream and a promising future for their children. The problem at the start involves the arrival of the maternal grandmother, who develops a special relationship with her grandson, David.
The film won an Oscar for best supporting actress, for Youn Yuh-jung, and a Golden Globe for best foreign-language film.
'Otra Ronda' / 'Another Round'. Thomas Vinterberg, 2020, Denmark. Original version with subtitles
7 July and 18 August
Four secondary school teachers decide to embark on an experiment with themselves: maintaining a constant level of alcohol in their system throughout their working day. Guided by the theories of a Norwegian psychiatrist, they believe this will open up their minds to the world around them, although the result turns out to be life-affirming.
'The Guernsey Literary and Potato Peel Pie Society' / 'La Sociedad Literaria y el Pastel de Piel de Patata'. Mike Newell, 2018, UK. Original version with subtitles
18 July
After then end of the Second World War, a British woman writer receives a letter from an admirer from Guernsey, one of the Channel islands. When she reads the story of their book club during the German occupation, she travels there in search of inspiration for her next novel, but finds a story that exceeds her expectations.
'Nomadland'. Chloé Zhao, 2020, USA. Original version with subtitles
25 July and 25 August
Fern has reached an advanced stage in her life. Despite that, she finds herself without a regular job or roof over her head. A situation that prompts her to travel the land in search of seasonal work to make ends meet.
'El Amor en su lugar' / 'Love gets a room'. Rodrigo Cortés, 2021, Spain. Original version with subtitles
1 August
Poland's Jews remain under siege by the Nazi army for over a year, but even life continues even in the Warsaw ghetto. A group of actors perform a musical at the Femina Theatre for the public, to distract them from their cruel reality for a few hours. But a plan to escape hatches behind the scenes.
'Hijos del Sol' / 'Sun Children'. Majid Majidi, 2020, Iran. Original version with subtitles
4 and 29 August
The leader of a group of children petty thieves is recruited by a criminal mastermind to infiltrate a school. There he has to look for a way to find the access point to a nearby sewer for hiding valuable treasure.
'La Noche de los Reyes' / 'Night of the Kings'. Philippe Lacôte, 2020, Ivory Coast. Original version with subtitles
8 August
A young criminal is incarcerated in "La Maca", a prison in the Ivory Coast whose convicts are the ones who control what goes on inside its walls. True to their tradition, the head of the prison chooses the young man who has just arrived to narrate a story for the other prisoners. His only opportunity is to keep the story going until dawn.
Traductor de

:
Schedule
Days
Hours
Preus

27 juny,
4 juliol,
7 juliol,
18 juliol,
25 juliol,
1 agost,
4 agost,
8 agost,
11 agost,
18 agost,
22 agost,
25 agost i
29 agost

a les 20.00 h

Entrada general: 6 €

50 % dte. clients CaixaBank
Others
Occur on:

Tickets sold at:

Organised by:

With the collaboration:
Projeccions:
27 de juny i 22 d'agost, a les 20 h: MADRES VERDADERAS. NAOMI KAWASE, 2020, JAPÓ. VOSE
Una parella que fa temps que pateix perquè no pot concebre es decideix pel camí de l'adopció. Al cap de cinc anys, la mare biològica, ja convertida en una jove adulta, es presenta a casa de la parella demanant la devolució del seu fill.
4 de juliol i 11 d'agost: MINARI. HISTORIA DE MI FAMILIA. LEE ISAAC CHUNG, 2020, COREA DEL SUD I EUA. VOSE
Una família humil d'origen coreà comença una nova vida a la zona rural d'Arkansas. Obren una granja, a la recerca del somni americà, i un futur prometedor per als seus fills. La dificultat del començament implicarà l'arribada de l'àvia materna, que forjarà una relació especial amb el seu net, en David.
La pel·lícula va ser reconeguda amb un Oscar a la millor actriu de repartiment, per a Youn Yuh-jung, i un Globus d'Or a la millor pel·lícula de parla no anglesa.
7 de juliol i 18 d'agost. OTRA RONDA. THOMAS VINTERBERG, 2020, DINAMARCA. VOSE
Quatre professors d'institut es decideixen a fer un experiment amb ells mateixos: mantenir una taxa constant d'alcohol durant tota la jornada laboral. Guiats per les teories d'un psiquiatre noruec, els protagonistes pensen que això els obrirà la ment cap al món que els envolta, encara que el resultat serà un autèntic cant a la vida.
18 de juliol. LA SOCIEDAD LITERARIA Y EL PASTEL DE PIEL DE PATATA. MIKE NEWELL, 2018, REGNE UNIT. VOSE
Després de la Segona Guerra Mundial, una escriptora britànica d'èxit rep una carta d'un admirador des de Guernsey, una illa propera a Normandia. Quan llegeix el relat del seu club de lectura durant l'ocupació, viatjarà fins allà per buscar inspiració per a una pròxima novel·la, però trobarà una història que superarà les seves expectatives.
25 de juliol i 25 d'agost. NOMADLAND. CHLOÉ ZHAO, 2020, EUA. VOSE
La Fern ha entrat en una etapa avançada de la seva vida. Malgrat això, es troba sense una feina fixa ni un sostre on poder-se quedar. Una situació que la impulsarà a recórrer el país a la recerca de feines estacionals per tirar endavant.
1 d'agost. EL AMOR EN SU LUGAR. RODRIGO CORTÉS, 2021, ESPANYA. VOSE
Els jueus de Polònia continuen assetjats des de fa més d'un any per l'exèrcit nazi, però fins i tot al gueto de Varsòvia la vida segueix el seu curs. En l'escenari del Teatre Fémina, un grup d'actors interpreta un musical per al públic, que oblida durant unes poques hores la crua realitat. Darrere del teló, això sí, la idea d'escapar encara és ben viva.
4 I 29 d'agost . HIJOS DEL SOL. MAJID MAJIDI, 2020, IRAN. VOSE
El líder d'una colla de nens que fan furts de poc valor és reclutat per un cap criminal per infiltrar-se en una escola. Allà haurà de buscar la manera de trobar l'entrada a una claveguera propera que amaga un tresor valuós.
8 d'agost. LA NOCHE DE LOS REYES. PHILIPPE LACÔTE, 2020, COSTA D'IVORI. VOSE
Un jove delinqüent ingressa a "La Maca", una presó de la Costa d'Ivori en què els presidiaris són els que controlen el que passa darrere dels murs. Seguint la seva tradició, el "cap" de la presó triarà el jove acabat d'arribar com el narrador d'una història per a la resta dels presoners. La seva única oportunitat serà allargar el relat fins a l'albada.
Address:

Avinguda de Francesc Ferrer i Guàrdia, 6*8

District:

Sants-Montjuïc

Neighborhood:

la Font de la Guatlla

City:

Barcelona
When

From 27/06/2022 to 29/08/2022
Website
Web venda d'entrades:
You may also be interested in...
If you would like to make a correction related to this activity...let us know