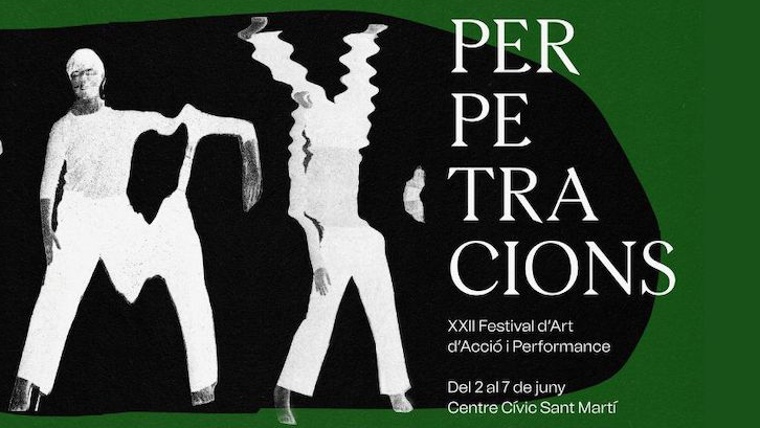 Action art. The festival aims to encourage activism and critical reflection, seeking a dialogue between artistic creativity and the community in non-conventional spaces.
Organised by the Sant Martí Civic Centre, the Festival of Action and Performance Art, Perpetracions will be held in different spaces between 2 and 7 June.
The programme comprises a selection of performance art, theatre, dance, circus, storytelling and more. There will be two formats: indoor and outdoor:
OUT: Performances at different locations in public spaces in the Sant Martí de Provençals neighbourhood.
IN: A journey through non-conventional spaces inside the Civic Centre building. Access is free but prior booking is required.
Full details of the programme are available on the festival website.
Traductor de

:
Schedule
| | Days | Hours | Preus | Observation |
| --- | --- | --- | --- | --- |
| | dissabte | a les 18.30 h | Entrada Gratuïta | |
L'art d'acció i la performance a l'espai públic són el distintiu del festival. No obstant això, enguany serà diferent i es realitzarà dins de l'edifici del centre cívic.
Sense perdre la seva essència, les performances es podran veure en espais no convencionals.
Aforament limitat. Cal reserva prèvia de l'entrada
presencialment o en línia a partir del següent enllaç :
ARTISTES PARTICIPANTS
Diego g
Apología de la sostenibilidad · trabajo de artista
[Performance] @diegoismo
Juan José Morales a.k.a Tate
El Capitalismo me ha salvado la vida
[Performance | Instal·lació] @teatroenelmar
Emma Villavecchia
Rítmia
[Dansa contemporània] @emmaeiouu
Artista convidada, residència artística Kinètic Performàtic 2019
Col·lectiu Kein Komplot
Little Fly
[Teatre gestual | performance] @kein_komplot
Companyia Les Fugitives
Sibil·la
[Teatre] @cialesfugitives
CONDUCCIÓ DE L'ACTE
Eli Gras
[Art sonor] @eli.gras
ACTIVITAT PARAL·LELA
Auditori Sant Martí de Provençals.
Diumenge 6 de juny a les 18.30 h
JANIKA
Immunda, work in progress
[Verticals-contorsió | dansa-teatre | performance] @janika_cirqueperformance
Rambla Guipúscoa, entre Selva de Mar i Fluvià
Address:

Rbla Guipúscoa, 76

District:

Sant Martí

Neighborhood:

Sant Martí de Provençals

City:

Barcelona
Where

Rambla Guipúscoa, entre Selva de Mar i Fluvià
When

From 02/06/2023 to 03/06/2023
Website
You may also be interested in...
If you would like to make a correction related to this activity...let us know