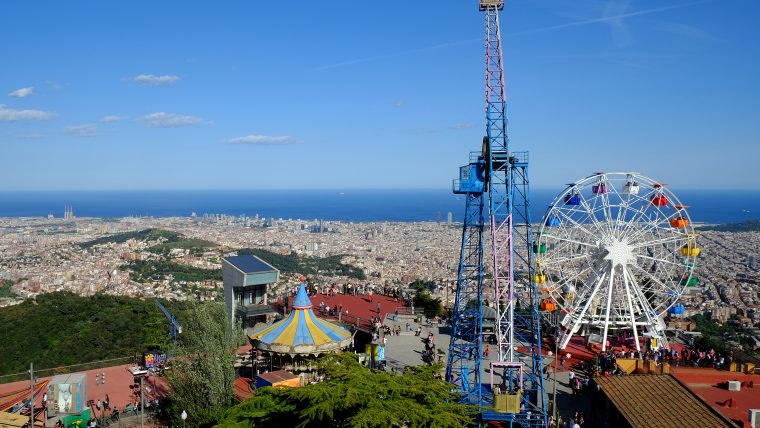 The Tibidabo Amusement Park offers a privileged view of the city as well as attractions and activities for the whole family.
The Tibidabo Amusement Park is a magical and iconic venue in the city. A hundred years old, it is one of the oldest of its kind in the world. Constantly evolving, it has attractions for all ages, top-notch shows and a travelling animation that turns the attractions route into another one of the park's shows.
The park also puts a variety of services at the disposal of its visitors, such as restaurants and picnic areas.
The Camí del Cel del Tibidabo, 500 metres above sea level, offers the best views of the city and on a clear day it is possible to see the peaks on the island of Mallorca.
Some of the historical attractions, such as the hall of mirrors, the Talaia, the 1928 aeroplane and the Automaton Museum are already part of the city's collective memory.
Titularitat:

or
Traductor de

:
Schedule
Period
Days
Hours
Preus
Observation

De l'1 juny al 30 juny

Dissabte, Diumenge,

23 juny, 24 juny, 25 juny

i 30 juny

de 12.00 h a 21.00 h

Entrada general: 35 €




- majors de 60 anys (prèvia acreditació): 10.5 €

- menors de 120 cm d'alçada: 14 €

- persones amb diversitat funcional : 7 €




Entrada gratuïta:

- menors de 90 cm

- acompanyants discapacitats

- més grans de 60 anys sense accés a les atraccions i/o espectacles

- Titulars Targeta Rosa




Entrada reduïda:

-Families nombroses o monoparentals:

·24 € alçada més de 1,20 m

·9 € alçada menys de 1,20 m

- Descompte 20% registrat a Gaudir+BCN

- Descompte del 20% carnet de Biblioteques

- Descompte 5 € Carnet Jove




Tibiclub:

- familiar: 152 € / any (+ 22.50 € quota inscripció el primer any)

- individual: 54 € / any (+ 22.50 € quota inscripció el primer any)

-monoparental: 152 € / any (sense quota inscripció el primer any)




Entrada escolar (reserva prèvia a l'e-mail comercial@tibidabo.cat): 14 €

- menors de 120 cm.: 10,50 €

- menors de 90 cm.: 0 €

- un monitor gratis per cada 10 nens




Totes les tipologies d'entrada inclouen el Funicular (Cuca de Llum) i les llançadores Tibibus




L'Àrea Panoràmica obrirà a les 11h




L'entrada del Parc d'Atraccions inclou les

atraccions del Camí del Cel

10 juny,
11 juny i
17 juny

de 09.00 h a 17.00 h

De l'1 juliol al 31 juliol

Dimecres, dijous i divendres

de 12.00 h a 21.00 h

Dissabte i diumenge

de 12.00 h a 22.00 h

De l'1 agost al 31 agost

Dimecres, dijous, divendres, dissabte, diumenge i festius

De l'1 setembre al 30 setembre

4 setembre,
5 setembre,
11 setembre,
23 setembre,
24 setembre i
25 setembre

de 12:00 h a 21:00 h

12 setembre,
18 setembre i
26 setembre

de 12.00 h a 20.00 h

De l'1 octubre al 31 octubre

Dissabte, 10 octubre,
11 octubre i
31 octubre

de 12.00 h a 21.00 h

Diumenge i
12 octubre excepte 10 octubre i 31 octubre

de 12.00 h a 20.00 h

De l'1 novembre al 30 novembre

Dissabte i Diumenge

de 12.00 h a 19.00 h

1 novembre

de 12.00 h a 20.00 h
Address:

Plaça del Tibidabo, 3

District:

Sarrià-Sant Gervasi

Neighborhood:

Vallvidrera, el Tibidabo i les Planes

City:

Barcelona
Address

Plaça del Tibidabo, 3
Phone number
Tel.:

932117942
Website
E-mail
E-mail:

comercial@tibidabo.cat
If you would like to make a correction related to this organisation or facility...let us know