Traductor de

: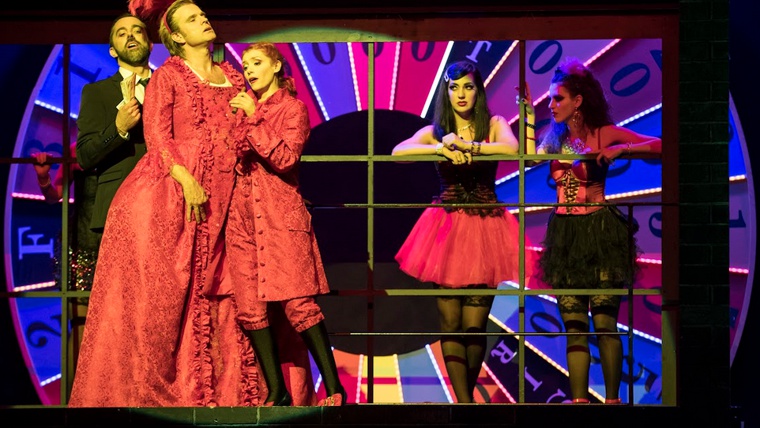 El 1731, quan l' abbé Antoine-François Prévost va escriure  L'histoire du chevalier des Grieux et de Manon Lescaut,poc s'imaginava que serviria d'inspiració per a la creació d'una sèrie de peces líriques de compositors com Auber, Massenet o Puccini. En la seva partitura, Jules Massenet ens presenta el retrat d'una època: la Regència francesa, que va veure el crepuscle d'un món envellit i incapaç d'adaptar-se, i l'aparent naixement d'una nova societat amb abundants promeses de llibertat. Manon és un personatge complex a mig camí entre aquests dos mons: escapant del convent per abraçar els camins del desig i la transgressió, acaba llançant-se al buit en una relació d'amor apassionada, però també autodestructiva amb Des Grieux. Un preciós parèntesi que només s'obre breument per tancar-se dolorosament.
El director Olivier Py, en al seva aclamada producció per al Grand Théâtre de Genève, es deslliura dels paranys històrics dels anys llibertins del segle xviii, per associar-la a unes imatges memorables de bordells sòrdids portats a la vulgaritat més ordinària. Amb una imatge impossible d'esborrar: un Des Grieux trobant Manon esgotada que s'engalana de joies impotents a l'hora de tornar a la felicitat i donar sentit a una vida.
A partir d'una novel·la moralitzadora, Massenet estrena a l'Opéra-Comique l'any 1884, una obra amb una música seductora i espontània que acabarà per commoure l'espectador, tot fent perdonar l'amoralitat dels protagonistes en el seu camí tortuós. Manon, que aspira per damunt de tot al luxe i a la comoditat, es conduirà a la traïció i a la prostitució. La seva deportació a Louisiana i posterior mort en els braços de l'impotent i penedit Des Grieux és alliçonadora. Des d'una visió misògina, per la seva força i la seva manera d'encarnar el mal i la perdició, ha esdevingut un mite literari a l'alçada d'una sèrie de dones com Cleòpatra, Eva, Salomé, Carmen o Lulú.
Javier Camarena, com a innocent Des Grieux, i Nadine Sierra, com a espurnejant Manon, són la parella protagonista, que serà acompanyada des del podi per Marc Minkowski. Trio d'asos per recuperar aquest paradigma de l'òpera francesa: una història que ens parla des de la provocació i la complaença libidinosa, i de dos adolescents amb set de vida, situats al davant del dilema i d'un tràgic final.
Fitxa artística
Direcció d'escena: Olivier Py
Coreografia i reposició: Daniel Izzo
Escenografia: Pierre André Weitz
Vestuari: Pierre André Weitz
Il·luminació: Bertrand Killy
Producció: Grand Théâtre de Genève i Opéra-Comique (París)
Schedule
Days
Hours
Preus
Observation

20 abril,
21 abril,
24 abril,
26 abril,
27 abril,
29 abril,
2 maig i
3 maig

a les 19.00 h

Entrada general de: 15 a 298 €

Informació sobre abonaments i
descomptes a la web i taquilles
del teatre

22 abril i
23 abril

a les 18.00 h

30 abril

a les 17.00 h
Address:

C la Rambla, 51*59

District:

Ciutat Vella

Neighborhood:

el Raval

City:

Barcelona
When

From 20/04/2023 to 03/05/2023
Phone number
Ticket sale:

Ticket sale:

Ticket sale:

Ticket sale:

Tel.:

Fax:
Website
Web venda d'entrades:
You may also be interested in...
If you would like to make a correction related to this activity...let us know