Traductor de

: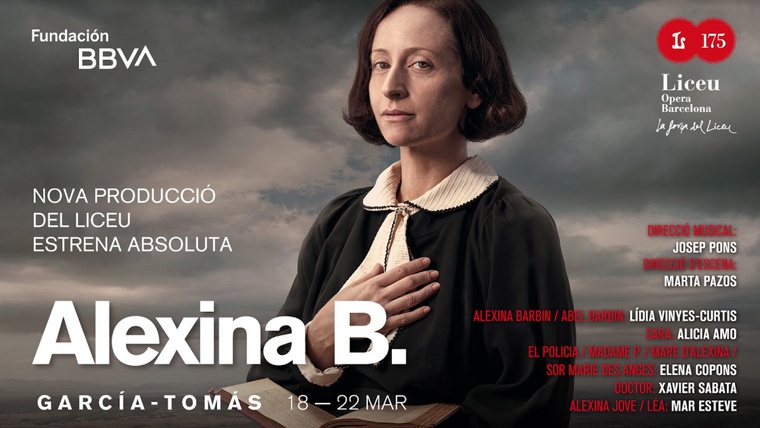 "Tinc vint-i-cinc anys i, si bé encara jove, m'aproximo, sense dubtar-ho, al terme fatal de la meva existència. He sofert molt, i he sofert sol, abandonat per tots!", Mes souvenirs, Herculine Barbin
L'òpera Alexina B. està inspirada en la història d'Adélaïde Herculine Barbin, també coneguda com Alexina B., una persona intersexe. Nascuda a França l'any 1838, el seu testimoni commovedor i suggerent per a l'univers sonor de Raquel García-Tomás, Premi Nacional de Música 2020.
A Alexina se li atribueix el sexe femení en néixer, creix en un convent i, treballant com a institutriu, s'enamora d'una de les seves companyes. En una societat on l'acceptació de la diferència era complicada i l'heterosexualitat, la norma, Alexina es reivindica com a home, canvia de sexe legal i d'identitat, per ser Abel Barbin, però, incapaç d'adaptar-se, en la seva soledat s'acaba suïcidant.
Una història potent i intensa que ens posa, com a comunitat, davant del mirall per la condemna i els perjudicis. El seu testimoni revela la violència de les institucions religioses i mèdiques, així com la d'una societat heteronormativa, que no permet ni l'autoafirmació ni l'autodeterminació fora del binarisme de sexe i gènere. Amb llibret d'Irène Gayraud i una proposta escènica de Marta Pazos (col·laboradora de García-Tomás a Je suis narcissiste, 2019), aquesta òpera en tres actes és una història de lluita per la identitat i un autèntic salt al buit per a la nostra protagonista.
Fitxa artística
Direcció d'escena: Marta Pazos
Escenografia: Max Glaenzel
Vestuari: Silvia Delagneau
Il·luminació: Nuno Meira
Coreografia: María Cabeza de Vaca
Vídeo: Raquel García-Tomás
So: Sixto Cámara
Producció: Gran Teatre del Liceu
Schedule
Days
Hours
Preus
Observation

20 març

a les 19.00 h

Entrada general: 20 €

Preestrena exclusiva per a públic jove menor de 35 anys

18 març,
21 març i
22 març

a les 19.00 h

Entrada general de: 9 a 127 €

Informació sobre abonaments i
descomptes a la web i taquilles
del teatre
Address:

C la Rambla, 51*59

District:

Ciutat Vella

Neighborhood:

el Raval

City:

Barcelona
When

From 18/03/2023 to 22/03/2023
Phone number
Ticket sale:

Ticket sale:

Ticket sale:

Ticket sale:

Tel.:

Fax:
Website
Web venda d'entrades:
You may also be interested in...
If you would like to make a correction related to this activity...let us know