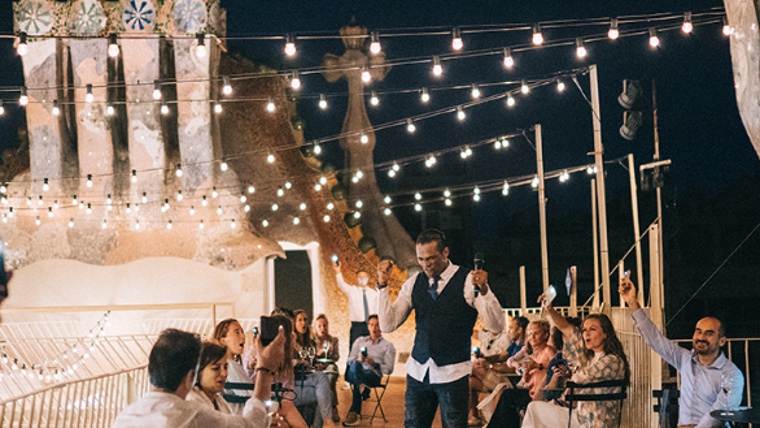 Experiences. Casa Batlló celebrates its tenth edition of 'Magic Nights'
From 1 July, this Unesco World Heritage site will be offering a much more complete visit with its ' Magic Nights'.
First of all, as it has been doing for the last ten years, the venue is offering visitors who take the guided tour the chance to end their tour under the skies of Barcelona, on the roof of Casa Batlló.
Do you like the idea? It is also hosting a varied music programme which features 13 artists from different musical disciplines to suit all tastes, which you can enjoy with a complementary drink in a unique, open air setting, at the top of Casa Batlló!
What's more, to celebrate this 10th edition, there is a great new experience: the immersive '10D Experience' which will be showcasing 2,000 m² of Casa Batlló never before seen, with a whole host of new offerings.
What are you waiting for? 
Here you will find more information on admission and tickets and you can view the programme of concerts.
Traductor de

:
Schedule
Days
Hours
Preus
Observation

Dimarts, dimecres, dijous, divendres i dissabte

a les 18:00 h i a les 20:00 h

Entrada general de: 29 a 59 €




Entrada Blue:

- Residents a Espanya: 29 €

- Preu general: 49 €




Entrada Silver:

- Residents a Espanya: 37 €

- Preu general: 57 €




Entrada Gold:

- Residents a Espanya: 39 €

- Preu general: 59 €

Mín. 2 persones per taula
(màx. 6)

Nens (-12 anys): Gratis
Others
Occur on:

Tickets sold at:
Aquesta primavera, el Terrat de la Casa Batlló, joia arquitectònica d´Antoni Gaudí, presenta Nits Màgiques de l´1 de juny fins a finals d´octubre. De dimarts a dissabte, la màgica terrassa modernista torna a acollir una vetllada única amb una variada agenda musical que compta amb un elenc de 13 artistes de diferents disciplines musicals per a tots els gustos.
Aquesta edició de Nits Màgiques celebra el seu 10è aniversari amb una gran novetat: la nova experiència immersiva '10D Experience' que estrena 2.000 m2 més de la Casa Batlló mai vistos fins al moment i presenta una llarga llista de novetats, on destaquen dues noves sales immersives: Gaudí Dôme, una cúpula de més de 1.000 pantalles, amb 21 canals d´àudio i un mapping que ens parla del origen de la inspiració del geni, i Gaudí Cube, un cub LED de sis cares únic al món que presenta l´obra de l´artista digital Refik Anadol "En la ment de Gaudí". Un espai envoltant capaç de canviar la percepció de la realitat i que ofereix un viatge a la ment de l´arquitecte per veure la realitat amb els seus ulls.
L´entrada de Nits Màgiques inclou visita cultural completa a la Casa Batlló culminant amb l´actuació musical a la terrassa. Per a aquesta edició, es realitzen dues sessions diàries: a les 18h i a les 20h. Es tracta d´una experiència de 2 hores de durada, la primera hora inclou la visita cultural '10D Experience' i la segona el concert al terrat.
Artistes
Per a aquesta nova edició de Nits Màgiques, la Casa Batlló proposa la següent cartera d´artistes: La Mar de Rumba una barreja de jazz fusió, bossa nova i per descomptat rumba amb el duo de María Blanco i David Torras, Luna Llena duo de guitarra espanyola i dansa flamenca amb Sergi Vicente i Juan Ruano, el swing i jazz de la mà de Gisela Novais, la cantant i compositora catalana d´origen britànic Monica Guech, la versatilitat del cantant anglès Lexter, Al Sánchez & The Speedway Runners, un tribut a Elvis, el Rei del Rock & Roll, la banda de jazz, blues, swing i bongaloo Summer Lovers, la barcelonina Carmen Porcar, la dolça veu de Marga Mbande, la cantant, guitarrista i compositora Gigi MacFarlane, l´estil funk de Peter Gynt & The Suites. I finalment, com a noves incorporacions d´aquesta edició, La Dama y los Vagabundos i María Expósito.
Address:

Pg Gràcia, 43

District:

Eixample

Neighborhood:

la Dreta de l'Eixample

City:

Barcelona
When

From 01/06/2021 to 30/10/2021
Phone number
Tel.:

93 216 03 06

Tel.:

932160306
Website
Web venda d'entrades:
You may also be interested in...
If you would like to make a correction related to this activity...let us know