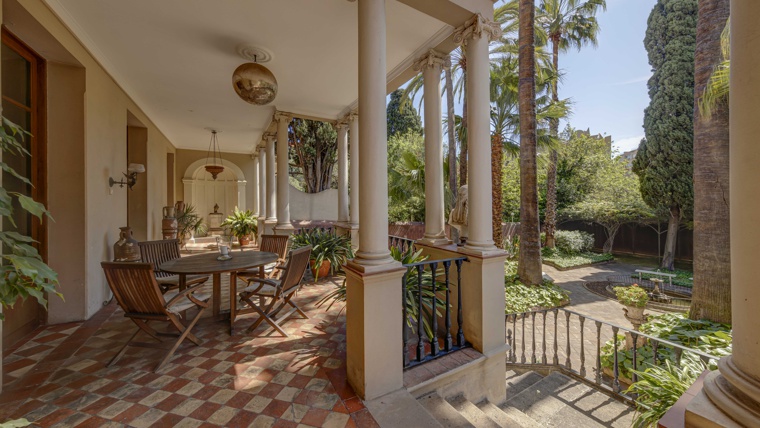 Visits. Come and visit the Casa Rocamora's garden on Thursday nights in the summer, with a glass of wine in hand.
The Casa Rocamora was the residence of the collector and patron, Manuel Rocamora (1892-1976). Thanks to his donation of more than 4,000 items of clothing to Barcelona City Council, the Museo de Indumentaria Colección Rocamora was established in 1969.
The house you'll be visiting is a mansion dating back to the reign of Isabel II of Spain and is located in the El Putxet neighbourhood. It has retained its original decoration and collections of paintings, sculptures, Alcora ceramics, figurehead and advertising slogans
The hall
It was here that Manuel Rocamora would receive his visitors. He had visits every day, always connected to the world of culture and intellectuals. It is practically the same today as it was during his life. We can see part of his collection of figureheads and works by Modest Urgell, Ramon Martí Alsina...
The garden
Manuel Rocamora often went out to pain in the garden, which used to reach Carrer Pàdua. During the period when Porcioles was the city's mayor, Rocamora gave up part of his garden so Ronda General Mitre could be constructed, thereby losing of its access points.
The library
He spent a large part of his time to reading and writing. An important collection of books on fashion and volumes of Spanish legislation on clothes and fabrics is conserved in the library. You can also see the original furniture made by Pablo Picasso for the El 4 Gats tavern.
Traductor de

:
Schedule
Days
Hours
Preus
Observation

Dijous excepte 4 agost, 11 agost, 18 agost, 25 agost i 1 setembre

a les 19.00 h

Entrada general: 29 €

Preu fins al juny 50% descompte: 14,5 €

Dos grups (català i castellà)
Others
Occur on:

Tickets sold at:
Visita guiada a la Casa Rocamora i copa de vi al jardí.
La Casa Rocamora fou la residència del col·leccionista i mecenes Manuel Rocamora (1892-1976). Gràcies a la seva donació de més de 4.000 peces d'indumentària a l'Ajuntament de Barcelona, l'any 1969, es crea el Museo de Indumentaria Colección Rocamora. La casa que visitareu és un palauet isabelí que es troba al Putxet. Conserva la decoració original i les col·leccions de pintura, escultura, ceràmica d'Alcora, mascarons de proa, reclams publicitaris…
Address:

C Ballester, 12

District:

Sarrià-Sant Gervasi

Neighborhood:

el Putxet i el Farró

City:

Barcelona
When

From 30/06/2022 to 22/09/2022
Phone number
Tel.:

Reservations:
Website
Web venda d'entrades:

Web:
E-mail
E-mail venda d'entrades:

casessingulars@casessingulars.com
You may also be interested in...
If you would like to make a correction related to this activity...let us know