Traductor de

: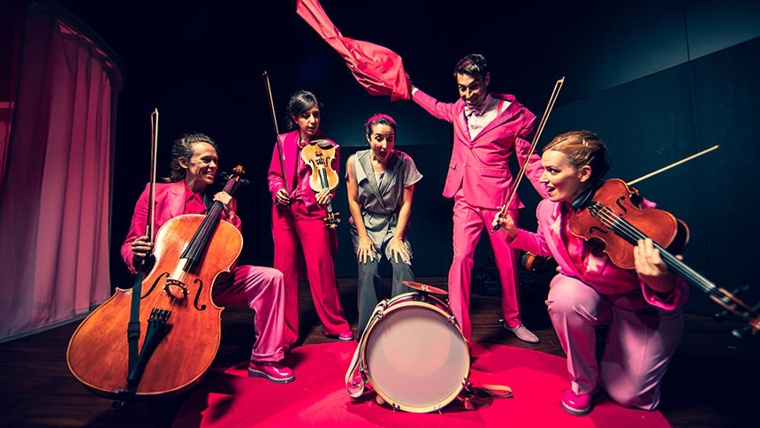 La música... La música és com un gelat de maduixa, una festa d'aniversari, unes vacances a la platja amb els cosins, una nit de Reis que no s'acaba mai, un secret a cau d'orella, una conversa entre amics... Així podríem definir la música per a quartet de corda. I no és casualitat que els compositors de totes les èpoques hi hagin dedicat algunes de les seves composicions més inspirades. I si al quartet hi afegim la veu, segurament l'instrument més expressiu de tots, què més es pot demanar? Vine i deixa't portar per les músiques de Mozart, Satie o Bernstein i pel so de la veu i del quartet de corda. Perquè la música és un tren que no s'atura mai i et fa viatjar per on vols, quan vols i amb qui vols... 
Fitxa artística
Guió i direcció artística: Joan Maria Segura
Direcció musical: Naüm Monterde i Oriol Garcia
Escenografia: Xavier Erra
Disseny d'il·luminació: Ramón Ramiro
Vestuari: Marc Udina
Producció: Mireia Sevillano i Jordi Torras
Intèrprets: violí, viola, violoncel i cantant
Activitat recomanada per a famílies amb infants a partir de  6 anys. 
Schedule
Days
Hours
Preus

Dissabte

a les 18.00 h

Entrada general: 6 €




Clients de CaixaBank: 50% de descompte




Els menors de 3 anys tenen l'entrada gratuïta però n'han d'adquirir el tiquet.

Diumenge i festius, 26 setembre i
12 octubre

a les 12.00 h
Address:

Avinguda de Francesc Ferrer i Guàrdia, 6*8

District:

Sants-Montjuïc

Neighborhood:

la Font de la Guatlla

City:

Barcelona
When

From 24/09/2022 to 23/10/2022
Website
Web venda d'entrades:
You may also be interested in...
If you would like to make a correction related to this activity...let us know