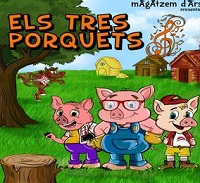 Hi havia una vegada tres porquets que vivien amb la seva mare. Un bon dia, l'empresa on treballa la mare tanca la filial i l'obliga a marxar tota sola a la Xina per conservar la feina. És llavors quan els tres porquets s'hauran d'espavilar i construir-se una casa des de zero. Les desavinences entre germans faran que cadascú se'n faci la seva segons el seu criteri i les seves ganes de treballar: una casa de palla, una de fusta i una altra de maons. Totes tres construccions seran posades a prova pel temible llop ferotge, que no podrà evitar les seves ànsies per clavar una bona queixalada als tres porquets.
Mare / Llop:  Sandra Argelaguer
Assenyat: Toni Cerdà
Juganera: Andrea Sevilla / Naís Santapau
Gandula: Marta Mateo / Mireia Obregón
Direcció: Albert Pueyo // Direcció vocal: Xènia Nogué
Música: Neus Kaori // Lletres: Jordi Fornieles
Llibret: Mar Colàs // Vestuari: Laura Taus i Moisés Prats
Producció: Magatzem d'Ars
Schedule
Period
Days
Hours
Preus
Observation

Del 8 desembre al 29 desembre

8 desembre i
29 desembre

a les 17.00 h

Entrada general: 14 €




Entrades anticipades: 11 €

(+ despeses de gestió)

23 desembre

a les 16.30 h

Del 7 gener al 28 gener

Diumenge

a les 11.00 h
Others
Occur on:

Tickets sold at:
Address:

C Jonqueres, 15

District:

Ciutat Vella

Neighborhood:

Sant Pere, Santa Caterina i la Ribera

City:

Barcelona
Where
When

From 08/12/2023 to 28/01/2024
Website
Web venda d'entrades:
You may also be interested in...
If you would like to make a correction related to this activity...let us know