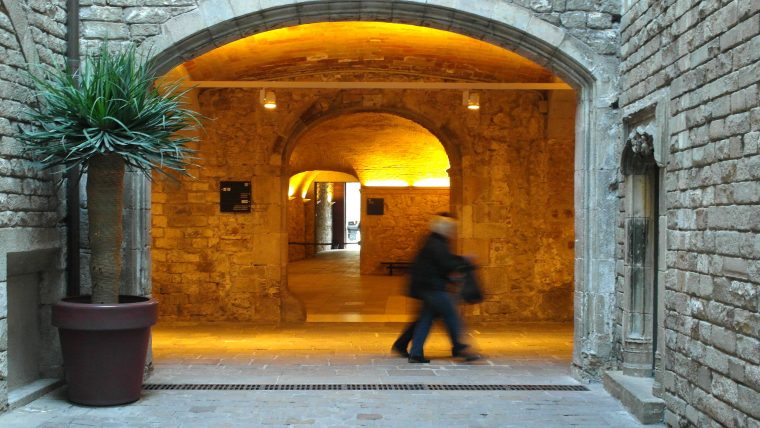 Barcelona's Picasso Museum opened in 1963, and is the reference centre for knowledge of Pablo Picasso's formative years.
The Museu Picasso is the reference centre for knowledge of Pablo Picasso's formative years. The genius of the young artist is revealed through the 4,251 works that make up its permanent collection. The museum also shows his relationship with Barcelona: a close, unbreakable relationship forged during his adolescence and youth that lasted until his death.
Its collection is very complete with regard to work from the formative years in the life of the artist, practically exhaustive until the Blue Period. The museum also house an important selection of work from 1917, the Las Meninas series (1957) and a full collection of his engravings.
Accessible for people with physical disabilities
Titularitat:

or
Traductor de

:
Schedule
Days
Hours
Preus
Observation

De dimarts a diumenge




Festius excepte:

24 desembre, 25 desembre,

31 desembre, 1 gener,

5 gener i 24 juny

de 10.00 h a 20.00 h

Entrada general: 12 €

(col·lecció permanent+temporal)




Reduïda (caldrà acreditar la condició): 7 € (col·lecció permanent+temporal)

- Persones de 18 a 25 anys

- Persones de 65 anys o més

- Titulars targeta rosa reduïda

- Persones a l'atur

- Titulars del carnet de Biblioteques de Barcelona




Articket: 30 €




Carnet del Museu

- Individual: 15 € (Col·lecció + exposició temporal)




Gratuïta (caldrà acreditar la condició):

- El 1r diumenge de cada mes

- Tots els dijous a partir de les 16 h

- Menors de 18 anys

- Estudiants universitaris

- Titulars targeta rosa gratuïta

- Titulars passi metropolità d'acompanyant d'un discapacitat

- Carnet de l'ICOM

- Professors (reserva imprescindible)

- Els guies turístics en l'exercici de la seva feina

- Els periodistes acreditats

- 12 i 13 de febrer (Santa Eulàlia)

- 16 i 18 de maig (Dia Internacional dels Museus)

- 15 de maig (Nit dels Museus: gratuït de 18 a 22 h)

- 24 de setembre (la Mercè)

Es recomana la compra anticipada de l'entrada

Les entrades a les exposicions es poden comprar on-line

al web del Museu.

El Carnet del Museu permet el lliure accés a tot el museu

sense passar per taquilles, durant un any des de la data

de l'adquisició.

Les visites en grup només amb concertació prèvia per telèfon,

fax o correu electrònic.

Un responsable de grup per cada 10 visitants pot tenir l'entrada gratuïta.




Visites accessibles regulars per a persones amb discapacitats

auditives o visuals i per als seus acompanyants.:

El tercer dijous de cada mes a les 18.30 h.

Amb reserva al telf. 932562997, de dilluns a divendres, de 9 a 14 h.

24 de desembre
31 de desembre

de 10:00 h a 14:00 h

5 de gener

de 10:00 h a 17:00 h
Els Palaus Aguilar (1963), Baró de Castellet (1970), Palau Meca (1982), Palau Finestres i Casa Mauri (1999) formen el conjunt del Museu Picasso.
El Museu té la més important i exhaustiva col·lecció de l'obra de joventut i formació de Pablo Picasso, i molt especialment la que va realitzar entre 1895 i 1904, període en que va residir a Barcelona. Pintura, dibuix, ceràmica i obra gràfica representatius de l'obra posterior de Picasso.
El Museu disposa de servei de visites comentades.
Address:

Carrer de Montcada, 15 - 23

District:

Ciutat Vella

Neighborhood:

Sant Pere, Santa Caterina i la Ribera

City:

Barcelona
Address

Carrer de Montcada, 15 - 23
Phone number
Switchboard:

93 256 30 00

Reservations:

93 256 30 22 per a grups, de dilluns a divendres de 10 a 13 h

Fax:

933150102
Website
E-mail
E-mail:

museupicasso@bcn.cat

E-mail:

museupicasso_reserves@bcn.cat

E-mail:

museupicasso@bcn.cat

E-mail:

museupicasso_reserves@bcn.cat
If you would like to make a correction related to this organisation or facility...let us know