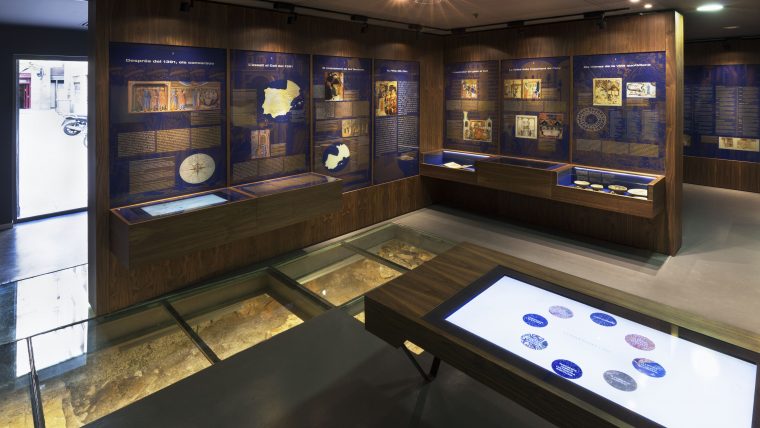 Barcelona History Museum El Call is the best starting point on your journey to discover how Barcelona's Jewish community lived in medieval times.
The seat of the Barcelona History Museum at El Call, located on the site of the house of veil weaver Jucef Bonhiac, looks at the trajectory of Jews during the city's history and the splendour of their cultural legacy, which has lasted until the modern day and is of great value to all of us.
El Call, the Jewish Quarter, has kept its name from when it was the neighbourhood in which Barcelona's Jews lived. First settling in the city in ancient times, Jews had a very active role in the urban community of the Middle Ages. Traces of the medieval El Call can still be seen in the streets and abundant documentation is kept in the city's archives.
Check out the offers available for users of the Gaudir Més programme.
Titularitat:

or
Traductor de

:
Schedule
Days
Hours
Preus

Dimecres

d'11:00 h a 14:00 h

Entrada general: 2 €




Entrada reduïda: 1,50 €

. menors de 29 anys

. majors de 65 anys

. carnet de biblioteques de Barcelona

. targeta rosa reduïda

. carnet de família nombrosa

. carnet de família monoparental.

Entrada gratuïta:

. menors de 16 anys

. targeta rosa gratuïta

. Registrats al programa Gaudir+BCN

. membres de l'ICOM

. Barcelona Card

. Associacions Museòlegs de Catalunya

. primer diumenge de mes tot el dia

. Tots els diumenges a partir de les 15 h

· 12 de febrer (Santa Eulàlia)

· 11 de setembre (Diada Nacional de

Catalunya), d'11 a 14h

· 24 de setembre (La Mercè)

Dissabte, Diumenge i
24 setembre excepte 1 gener, 1 maig, 24 juny i 25 desembre

d'11.00 h a 15.00 h i
de 16.00 h a 19.00 h

La Nit dels Museus 2023:

13 de maig

de 19.00 h a 01.00 h

Entrada Gratuïta
Address:

Placeta de Manuel Ribé, 3

District:

Ciutat Vella

Neighborhood:

el Barri Gòtic

City:

Barcelona
Address

Placeta de Manuel Ribé, 3
E-mail
E-mail:

museuhistoria@bcn.cat
If you would like to make a correction related to this organisation or facility...let us know