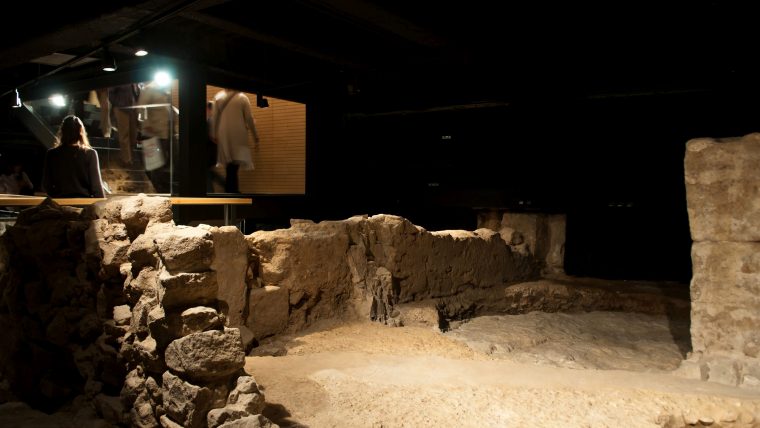 In this space the remains of a large Roman domus house and several commercial premises from the 4th century are preserved.
On 23 April 2010 this new archaeological space was opened, measuring 680 m2 and located nearby Plaça de Sant Jaume. Josep Llinàs's architectural project includes a route that allows you to see the most outstanding elements of a Roman domus house. The itinerary is similar to that at the Plaça del Rei site: a raised walkway guides you through the ancient structures, with the foundations still visible on the floor.
The house, owned by an important city character, was built in the 4th century, during a prosperous and dynamic time for the small Roman city. Six tanks for storing all kinds of products have been conserved from the 13th to the 14th century.
Check out the offers available for users of the Gaudir Més programme.
Titularitat:

c/Private Entities
Traductor de

:
Schedule
Days
Hours
Preus
Observation

diumenges excepte festius

de 10:00 h a 14:00 h

Entrada general de: 2 €

Entrada reduïda: 1.5 €
- Menors de 29 anys
- Majors de 65 anys
- Carnet de biblioteques de Barcelona
- Targeta rosa reduïda
- Carnet de família nombrosa
- Carnet de família monoparental
- Grups superiors a 10 persones

Entrada gratuïta:
- menors de 16 anys
- targeta rosa gratuïta
- Registrats al programa Gaudir+BCN
- Membres de l'ICOM
- Barcelona Card
- Associacions Museòlegs de Catalunya
- Guies turístics
- Periodistes acreditats
- Passi metropolità d'acompanyant d'una persona amb discapacitat
- Professors d'ensenyament reglat
- Primer diumenge de mes tot el dia
- 10 de febrer (Santa Eulàlia)
- 18 de maig (La Nit dels Museus, gratuït de 19 a 01h
Al subsòl de l´actual carrer Sant Honorat es pot visitar una domus romana que és va construir al segle IV dC. Es conserva part del perystilum o jardí central porticat amb diversos lacus, estanys amb aigua i plantes. Al perystilum s´obrien les diferents estances, moltes d´elles decorades amb mosaics policroms i pintures. La casa disposava d´unes termes privades. La decoració de la casa i la seva situació, al costat del forum de la colònia, així com la seva extensió (va haver d´ocupar la totalitat de la insula), ens indica que l´habitatge va pertànyer a un personatge destacat de la ciutat.
Al mateix jaciment es poden contemplar restes d´altres èpoques històriques, com sis enormes sitges de l´alta edat mitjana que es van construir al Call de Barcelona. Destaca la seva capacitat i alçada, d'uns 4 metres, també el seu sistema constructiu. El conjunt medieval mostra la vitalitat econòmica i comercial del barri jueu de Barcelona al segle XIII.
Address:

Carrer de la Fruita, 2

District:

Ciutat Vella

Neighborhood:

el Barri Gòtic

City:

Barcelona
Address

Carrer de la Fruita, 2
Website
E-mail
E-mail:

museuhistoria@bcn.cat

E-mail:

reservesmuhba@eicub.net

E-mail:

museuhistoria@bcn.cat

E-mail:

reservesmuhba@eicub.net
If you would like to make a correction related to this organisation or facility...let us know