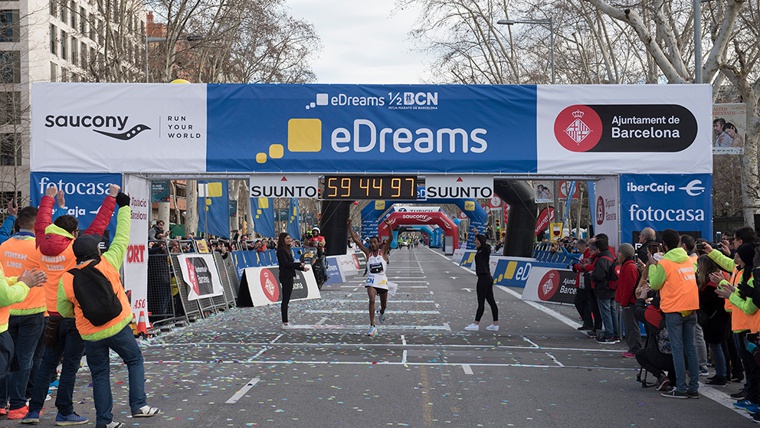 Sports. A new edition of the eDreams Barcelona Half Marathon is coming, with a health protocol that will ensure the protection of all participants, voluntary workers, members of the public and organisers.
On Sunday, 17 October, it's time to put on your trainers! The eDreams Barcelona Half Marathon is back in the city after a year and a half, with a safety protocol that will ensure that runners, voluntary workers, members of the public and organisers are all as safe as possible. 
On the day of the race, all runners must prove at the entrance to the runners' fair (Fira de Barcelona Hall No. 2) that either they are fully vaccinated or they have had a negative PCR test within the last 72 hours. Once you have been cleared, you can enter the site to collect your number, T-shirt and bag in person, as well as a 'Covid Free' bracelet that will grant you smooth access to the starting pens. Collection times are: 5 pm to 9 on Thursday, 14 October; 10 am to 9 pm on Friday, 15 October; and 9 am to 8 pm on Saturday, 16 October. Remember that you cannot collect your number on the day of the race.
The race will start and finish on Passeig Pujades. The race, which will be 21,097 km long, will start at 8.30 in the morning, and runners will have up to 2 hours and 45 minutes to complete it. You can register on this website until 11.59 pm tonight: https://edreamsmitjabarcelona.com/inscripcion/
Traductor de

:
Schedule
Days
Hours
Preus

diumenge

a les 08.30 h

Entrada general: 32 €

(primers 10.000 inscrits)




A partir de 10.000 inscrits: 36 €




Preu Promocional (si ja estàs inscrit a la Zurich Marató Barcelona 2021)

Primers 10.000 inscrits: 28 €

A partir dels 10.000 inscrits: 35 €
Others
Organised by:

Informs:
Informació
Per participar és obligatori córrer amb chip
Per motius de seguretat, absolutament tots/es els/les corredors/es hauran de recollir personalment el dorsal i acreditar en l'entrada de la fira del corredor la pauta completa de vacunació o una PCR negativa amb 72 hores de vigència. Només així podran entrar al recinte on retiraran el teu dorsal, samarreta i bossa del/la corredor/a i seran acreditat amb una polsera COVID FREE per a així poder accedir a la bombolla dels calaixos de sortida el dia de la cursa.
Les inscripcions estaran obertes fins el dilluns 11 d'octubre de 2021 a les 23:59h o, per motius de seguretat del circuit, fins a arribar a la xifra màxima de 22.500 inscrits.
Sortida/Arribada: Pg. Pujades.
La sortida tindrà lloc a les 8:30 h.
La distància és de 21.097 kilòmetres.
El temps màxim per realitzar la prova és de 2h45. El cotxe de tancament de la cursa es mantindrà proporcionalment a aquest temps en el km 10 i 15: quedaran eliminats els atletes que no compleixin el temps de pas màxim exigit.
Recollida de dorsal
Fira del corredor: Pavelló nº 2 de la Fira de Barcelona (Avinguda de Rius i Taulet 1-5).
Horari: dijous 14 d'octubre de 17h a 21h, divendres 15 d'octubre de 10h a 21h i dissabte 16 d'octubre de 9h a 20h.
Tots els inscrits hauran de recollir, de forma obligatòria, el seu dorsal, o dorsal-xip, la bossa del corredor i la samarreta a la Fira del Corredor. És obligatòria la presentació del DNI o passaport juntament amb el mail on s'indica el número de dorsal (si no disposes d'ell, el podràs descarregar de la web un cop estiguin adjudicats).
No s'entregaran dorsals el mateix dia de la cursa.
Serveis al corredor
El diumenge 17 d'octubre s'habilitarà una zona de guarda-roba al Passeig Lluís Companys. Estarà operatiu entre les 7h i les 12h.
Recorregut
SORTIDA: Pg. Pujades - P. Picasso - Av. Marqués Argentera - P. Isabel II - P. Colon - Josep Carné - Pl. Drassanes - Paral.lel - Entença - Gran Via - Bailén - Ronda Sant Pere - P. Sant Joan - P. Lluís Companys - B. Muñoz - Pallars - Llacuna - Perú - Josep Pla - Gran Via - Rambla Prim - Diagonal sentit Llobregat - Espronceda - Diagonal sentit Besós - Plaça llevant - P. Taulat - Selva de Mar - P. Garcia Faria - P. Calvell - Av. Litoral - Port Olímpic - Arquitecte Sert - Salvador Espriu - Marina - Pujades. ARRIBADA: Pg. Pujades.
Sortida i arribada al Passeig Pujades
Address:

Passeig de Pujades, 7

District:

Ciutat Vella

Neighborhood:

Sant Pere, Santa Caterina i la Ribera

City:

Barcelona
Where

Sortida i arribada al Passeig Pujades
When

17/10/2021
Website
Web:

Web inscripcions:
You may also be interested in...
If you would like to make a correction related to this activity...let us know