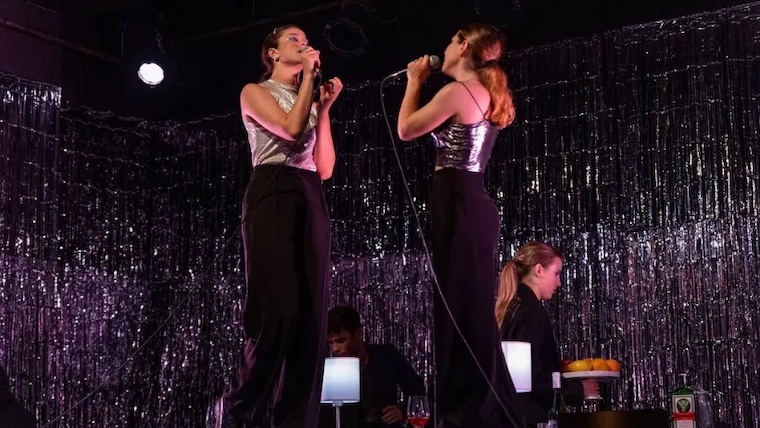 Theatre. A chance to discover talented young theatre companies with bold works.
Insomnia is a festival for us to get familiar with capable young theatre companies which deserve to reach a broader audience.
From 6 February onwards, a different company will be performing at the Teatre Borràs every Monday.
One of them will be back with a regular programme at the theatre for the 2023-24 season. Which one will it be? That's in your hands, as the winning play will be chosen by the public.
These are the shows in Insomnia:
6 February: Amor³, Shakespeare al cap, by Fac-òF.
20 February: Tanzània, by Fresquita Montes.
27 February: ¡Agárrate!, by Puro Trámite.
6 March: Loco Amoris, by La Bella Otero.
13 March: Pálpitos, by FUSE by Messcellany.
20 March: He llegit i accepto les condicions d'ús, by La Simforosa.
3 April: LILITH (El incendio del Paraíso), by Ana Sanahuja and Clara Garcés.
See the full details for insomnia here.
Traductor de

:
Schedule
Days
Hours
Preus

6 febrer,
20 febrer,
27 febrer,
6 març,
13 març,
20 març i
3 abril

a les 20.00 h

Entrada general: 16 €

(+ despeses de gestió)
Insomnia és una manera de viure teatre diferent, en mans de companyies joves amb talent i propostes atrevides, preparades i mereixedores d'arribar a un públic més ampli, d'arribar a tu. Insomnia és per a qui la seva passió pel teatre no els deixa dormir a les nits i per a tots els privilegiats que puguin (honestament i profundament) gaudir d'ella.
Cada dilluns a partir del 6 de febrer una companyia diferent actuarà en el Teatre Borràs. Una d'aquestes companyies tornarà la temporada que ve 2023/24 en la programació habitual del teatre.
Quin serà?
Això és a les vostres mans. El públic, vosaltres, jugareu un paper fonamental en aquest festival perquè sereu els que decidireu quina és l'obra guanyadora amb l'avaluació que feu després de veure el show. Us convoquem a formar part d'una d'aquestes 692 persones que ompliran el teatre cada dilluns a partir de les 19h. Les funcions començaran a les 20h. Quan acabi la funció, t'esperem per a prendre alguna cosa al Bar.
Podeo consultar la programació d'espectacles al següent enllaç www.grupbalana.com/insomniafestival
Address:

Pl Urquinaona, 9

District:

Ciutat Vella

Neighborhood:

Sant Pere, Santa Caterina i la Ribera

City:

Barcelona
Where
When

From 06/02/2023 to 03/04/2023
Website
Web venda d'entrades:
You may also be interested in...
If you would like to make a correction related to this activity...let us know