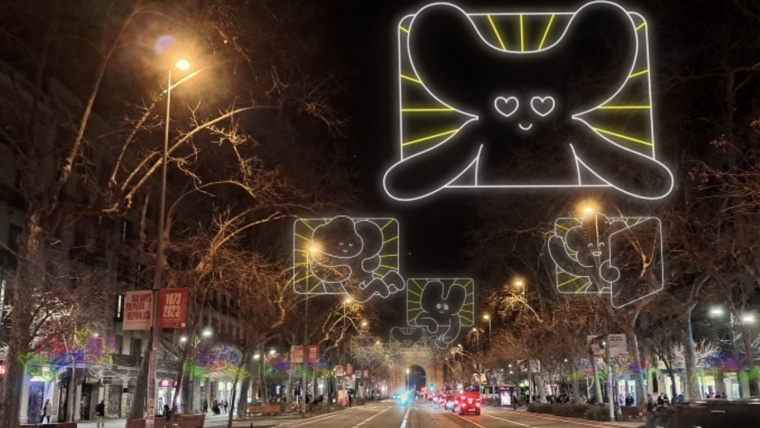 Lighting. Passeig de Sant Joan gets lighting for the first time, with large-format illuminations in the form of cartoon strips.
The Christmas lights will be lighting up Barcelona from 23 November to 6 January.
This year is the first time Passeig de Sant Joan will be lit up between Avinguda de Vilanova and Gran Via de les Corts Catalanes. The language used in this year's design is inspired by manga shops, Kawaii comics and the Chinese community. Overhead lighting in roads includes Christmas messages drawn in cartoon-strips windows, while lighting on pavements features classic Christmas icons. The design has been conceived to be seen at two speeds, one from vehicles and another for those on foot, and from two perspectives, through the eyes of local people and through the eyes of pedestrians.
Times for the Christmas lights:
Sundays to Thursdays, from 5.30 pm to 10 pm.
Fridays and Saturdays, from 5.30 pm to 11 pm.
Special days: 31 December and 5 January, from 5.30 pm to 1 am.
Schedule
Period
Days
Hours

Del 23 novembre al 6 gener

23 de novembre,

dia de la festa

d'encesa

de 18.30 h a 00.00 h

Diumenge, Dilluns, Dimarts, Dimecres i Dijous excepte 31 desembre

de 17.30 h a 22.00 h

Divendres i dissabte excepte 5 gener

de 17.30 h a 23.00 h

de 17.30 h a 01.00 h
La il·luminació nadalenca s'exhibirà als carrers entre el 23 de novembre de 2023 i el 6 de gener de 2024. L'inici serà el dijous 23 de novembre a les 18:30 hores amb l'espectacle de l'encesa de llums de Nadal.
Es mantenen els mateixos horaris que l'any passat amb l'ampliació d'horaris que ja es va fer el 2022 respecte al 2021. De diumenge a dijous, l'horari d'encesa serà de les 17:30 hores a les 22:00 hores, i divendres i dissabte, s'allargarà fins a les 23:00 hores. La Nit de Cap d'Any, el 31 de desembre, i la Nit de Reis, 5 de gener, els llums es mantindran encesos fins a la 1:00 de la matinada.
Enguany s'il·luminarà per primera vegada el Passeig de Sant Joan en el tram entre l'Avinguda de Vilanova i la Gran Via de les Corts Catalanes. El disseny de l'enllumenat d'aquest nou tram pels propers tres anys el fa l'estudi barceloní Brosmind que va ser el seleccionat en un concurs convocat per l'ADI-FAD. El jurat va valorar el caràcter innovador, diferenciat i simpàtic de la proposta que apel·la al barri del Fort Pienc. Les botigues de manga, el còmic Kawaii i la comunitat xinesa inspiren el llenguatge del disseny triat. Els missatges nadalencs dibuixats dins de finestres de còmic repartides en una distribució romboide sobre la via, s'acompanyen amb icones clàssiques nadalenques sobre les voreres. Un disseny pensat per ser vist en dues velocitats, la dels vehicles i la de qui va a peu, i des de dos punts de vista diferents, el del veïnat i el del vianant.
Horari de funcionament:
De diumenge a dijous, ambdós inclosos, des de les 17:30 hores fins a les 22:00 hores
Els divendres i dissabtes de les 17:30 hores fins a les 23:00 hores
*Dijous 23 de novembre, dia de la festa d'encesa, de les 18.30 hores fins les 24 hores
Dies extraordinaris:
Dies 31 de desembre de 2023 i 5 de gener de 2024, de 17:30 a 01:00 hores
A tota la ciutat
District:

Ciutat Vella

City:

Barcelona
Where

A tota la ciutat
When

From 23/11/2023 to 06/01/2024
Website
You may also be interested in...
If you would like to make a correction related to this activity...let us know