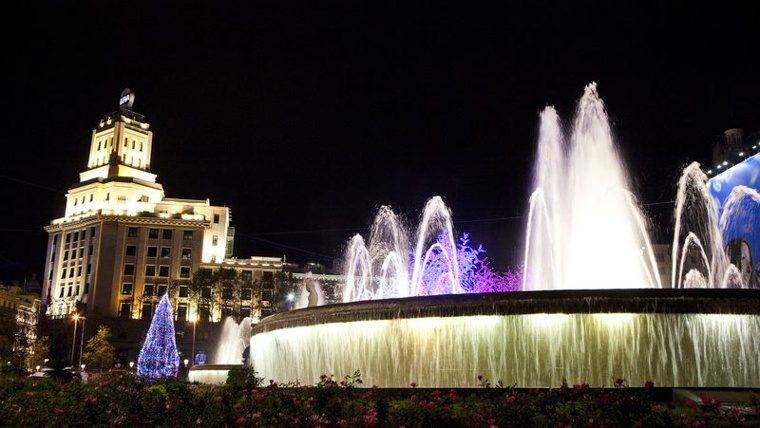 Light and colour show. The fountains in Plaça de Catalunya light up and offer a display of light and water.
When autumn arrives, Plaça Catalunya lights up and the Twin Fountains offer a magical display of music, colour and lights.
The Twin Fountains are located on the side of Plaça Catalunya nearest the mountains. The two circular fountains each have a diameter of 21.6 metres and a height of 1.5 metres, with a set of water jets around a central jet which is slightly higher than the others. Conceived by Fernando Espiau Seoane, the fountains were built in 1959.
Traductor de

:
Schedule
Period
Days
Hours
Observation

De l'1 abril al 31 octubre

Tots el dies

de 12.00 h a 22.00 h

Funcionament sense coreografies

per les mesures COVID-19.

De l'1 novembre al 16 desembre

de 12.00 h a 21.00 h

Del 17 desembre al 30 desembre

Tots el dies excepte 18 desembre

de 12.00 h a 22.00 h

18 desembre

de 14.00 h a 22.00 h

Del 31 desembre al 31 març

Tots el dies

de 12:00 h a 21:00 h
Address:

Pl Catalunya, 11

District:

Eixample

Neighborhood:

la Dreta de l'Eixample

City:

Barcelona
Where
When

Permanent event
You may also be interested in...
If you would like to make a correction related to this activity...let us know