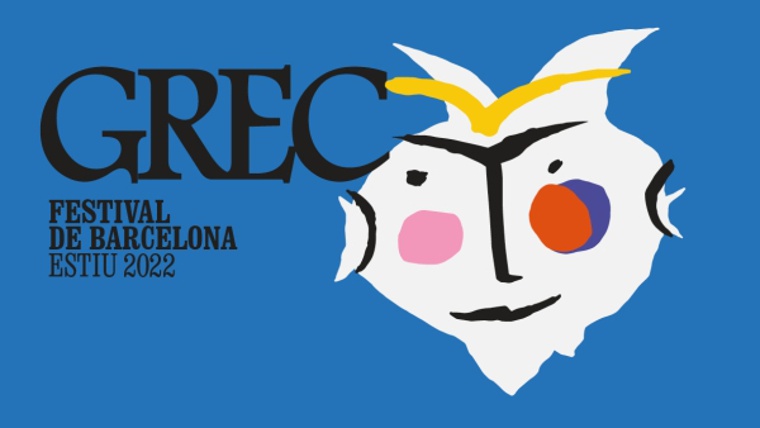 Performing arts. The 46th edition of Barcelona Grec Festival 2022 will include 86 shows and more than 50 activities.
This summer, after travelling the world for five years and getting under the skin of other cities, the Grec is coming home.
At a time of transformation, and momentous events that will shape the future of the continent, the 46th edition of Barcelona's Grec Festival spotlights Europe, and in a bid to imagine the future of the theatre, reviews some of the continent's greatest theatrical and literary highs, with a programme of classics like 'El burlador de Sevilla', 'Hamlet', 'Paradise Lost', 'Tartuffe' and 'Sappho'.
Over four weeks, the Grec 2022 will be bringing 86 shows and more than 50 activities to 55 different venues throughout the city.
The show that will be opening the festival is brought to us by the Nederlands Dans Theater - NDT 1 , one of the most prestigious dance companies in Europe, who will be presenting three choreographies. It will showcase the work of three generations of creators: Dutch/ Valencian dancer and choreographer Marina Mascarell's 'How to cope with a sunset when the horizon has been dismantled'; the choreography of Sharon Eyal and Gai Behar , 'Bedroom Folk'; and William Forsythe's work , 'One Flat Thing, reproduced'.
El Grec obert al món [The Grec, open to the world]
The festival will once again be showing its commitment to international creativity. With the aim of presenting exceptional artistic projects, and highlighting the value of collaboration and networking, this year's key partners have been Wiener Festwochen and the Kunstenfestivaldesarts (Vienna and Brussels) as well as Paris' Theatre de la Ville .
So the programme for the Grec will include 'El Conde de Torrefiel' , Iranian director Amir Reza Koohestani , who will be in Barcelona for the first time, and '28 i mig' from La Perla, , recently enjoyed by audiences at the Teatre de la Colline in Paris.
Also part of the international creative line up will be 'An Enemy of the People' , by Henrik Ibsen and directed by Thomas Ostermeier , and The Wooster Group , the most important experimental theatre company in the USA.
A Boost to creativity
In keeping with one of the Grec's strategic aims, this year will see various different initiatives born from a desire to achieve surprising and unexpected connections, such as the shows that are to be offered by flamenco dancer and choreographer Israel Galván and the Escolania de Montserrat boys' choir ; by Portuguese singer Salvador Sobral and pianist Marco Mezquida ; by choreographer Pere Faura and the Orfeó Català choral society ; and by the Barcelona Symphony Orchestra and Catalan National Orchestra (OBC) with visual artist Alba G. Corral , who will be in charge of the images of the Terres de l'Ebre region that will accompany the performance.
Lovers of musicals will also be able to enjoy a homage to Sondheim at the Teatre Grec.
Local talent
Continuing to showcase the country's talent and creativity, the Grec has opted for works by Catalan playwrights Jordi Prat i Coll, Marta Buchaca, Jordi Casanovas and Llàtzer Garcia.
Local venues and 'On el teatre batega' are co-producing shows by Sílvia Navarro and Marc Rossich .
In terms of dance, there are to be productions of works by Lali Ayguadé, Nazareth Panadero, Albert Quesada , and the Institut del Teatre Maria Jurado and Nico Jongen awards; in circus you have Cia Vöel and Psirc , for the whole family there's La Baldufa, Sr. Serrano, Aracaladanza, and Thomas Noone.
What's more, this edition of the Grec will include a new space recently acquired by the city - El Molino . This emblematic theatre will be hosting a two-week programme that aims to reflect diversity expressed through the performing arts, theatre and performance, and also by rescuing the memory of a Paral·lel which was once the quintessential venue in Barcelona for music hall and cabaret.
Music production
And in a year that's marked by the return to the city of major music festivals, the Grec has sought to present its own artistic musical line up, incentivising collaborations and proposals stimulated by or produced for the festival, such as the concert by Roger Mas which is part of a tour to promote his latest album, 'Totes les flors', with a great line up of guest artists, and a concert that will present Sisa's most recent album, also featuring numerous guest artists.
Music at the Teatre Grec during the festival will also include a performance by Els Pets , who will be appearing there for the first time and premièring their album entitled '1963'.
The festival's European focus will be rounded off with an evening of chanson from Jane Birkin , and another of fado with Cuca Roseta , and the great singer Camané with Mario Laginha .
Tarta Relena with Cucanha , Gemma Humet and Lucas Bun are just some of the young names that will also be part of the programme's musical menu.
The full programme can be found on the Grec Festival Barcelona website .
Traductor de

:
Schedule
| | Days | Hours | | |
| --- | --- | --- | --- | --- |
| | Tots el dies | Consultar horaris i preus al web del Festival | | |
Others
Tickets sold at:

Organised by:
Aquest estiu, després de viatjar durant cinc anys per tot el món posant-se a la pell d'altres ciutats, el Grec torna a casa. Aquesta Odissea va partir, el 2017 de Grècia amb la Mar Mediterrània com a motiu inspirador de la programació. El 2018 va recórrer el continent asiàtic resseguint la ruta de la seda. El 2019 va viatjar des d'Austràlia fins als Estats Units, amb Nova York com a destinació final, tot buscant la tensió entre el món de les passions i la civilització urbana. En un estrany 2020 va resseguir l'Amèrica Llatina, cercant una reflexió sobre la vida, la mort, les pors i el món espiritual. I en la darrera edició, el 2021, el Grec es va inspirar en Àfrica, tant amb la del continent com en l'Àfrica present a la ciutat de Barcelona.
Ara el Festival d'estiu de la ciutat torna transformat, amb el bagatge de l'aprenentatge adquirit, per descobrir què hi passa en un moment de profund trasbals al continent europeu, i reflexionar sobre la nostra història i cultura: d'on venim? Cap a on anem? Després de viure una pandèmia, el Grec vol contribuir a recuperar la confiança del públic en els teatres, i actuar com a impulsor de la pròxima temporada teatral. A més de desvetllar, difondre i potenciar el talent artístic més proper, aquest any el Grec fa una mirada als clàssics per imaginar com podria de ser el futur de les arts escèniques però tenint molt present el passat recent i fent una picada d'ullet a la història del festival, recuperant la imatge del Faune de les nits d'estiu que fins al 2004 va ser a la cartelleria del festival.
Diversos espais de la ciutat
Address:

Pg Santa Madrona, 38

District:

Sants-Montjuïc

Neighborhood:

el Poble-sec

City:

Barcelona
Where

Diversos espais de la ciutat
When

From 29/06/2022 to 12/08/2022
Website
Web:

Web venda d'entrades:
You may also be interested in...
If you would like to make a correction related to this activity...let us know